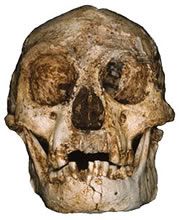 The debate over the classification of
Homo floresiensis
as a new species
was settled four years ago
.....or so we thought.
Although
The Guardian
article I highlighted at the time
(March 4, 2005) declared the "hobbit saga ended" and suggested that the small hominid was indeed a new species,
today's Guardian announces
that "new evidence has emerged to show that [the] extinct, diminutive people known as 'hobbits' from the
Indonesian
island of
Flores
belonged to a new species of primitive humans."
So the "new species" classification is official.....again? Did
The Guardian
and, along with it, most of the popular press jump the gun in 2005?
In all fairness, the recent headline's claim of finality is more true than that asserted by
The Guardian
in 2005.
The new evidence
is both anatomical and cerebral, prompting many previously skeptical scientists to accept
Homo floresiensis
as a distinct species. Still, some respected anthropological researchers remain unconvinced.
Their skepticism is given fair due
in leading scientific journals like
Nature
, but it doesn't receive much (if any) attention in the popular press.
In recent months,
Bioephemera
has been covering the often frustrating divide between scientific research and science reporting. Her posts are excellent; I encourage interested readers to check them out. (
Here
,
here
, and
here
.)