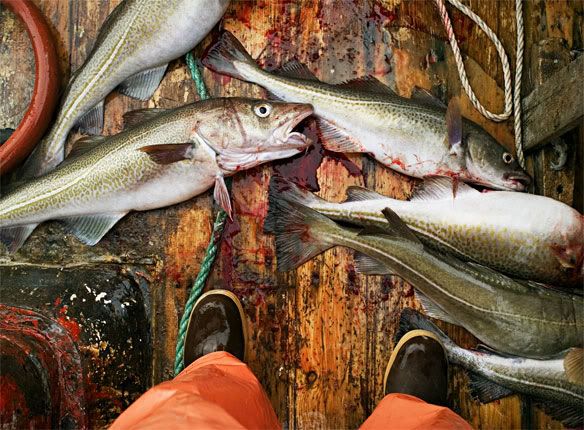 Corey Arnold
"Torsken"
2007
Chromira C-print
The son of an avid saltwater fisherman, many of my summer days were spent offshore. Departing the
Wachapreague, Virginia
, docks at 5 AM, the sky broke pink as my father carefully piloted his
Boston Whaler
through the
salt marsh
channels. Upon reaching the ocean inlet, we'd begin a thirty or forty mile run toward the sun-soaked eastern horizon. By 8 AM, we'd be trolling for
yellowfin
and
bluefin tuna
,
dolphin
("mahimahi"),
amberjack
, or various
mackerel species
. If that technique proved unsuccessful (or if my father's fishy hunches proved wrongheaded), we'd move west, closer to shore, so that we could bottom-fish for
black sea bass
,
spot
, and
weakfish
over scuttled
World War II
ships and defeated
German U-boats
.
Compared to my father, I was unenthusiastic about salt-water fishing. I much preferred fishing on a pond,
fly
or
spin
casting into "honey holes," those storied pockets where the giant
largemouth bass
,
perch
and
bluegill
dwell. The relative solitude and meditative character of freshwater fishing appeals to my temperament. I associate the leisurely activity with the soft-spoken stroke of the canoe paddle; the rhythmic, almost ritualized casting of a
fly
or
lure
; the temperate spring breezes that lick my bare forearms as they do the banks'
willow
and
maple
trunks; the ecstatic chatter of a
kingfisher
. Above all, I associate it with a sense of universal benevolence. This, in stark contrast to fishing offshore, where Nature's benevolence is tempered by ambivalent and awesome forces.
Still, I enjoyed being on the open ocean. I loved the bounce and glide of my father's Whaler as it motored over the Atlantic chop, and I was delighted by the otherworldliness of ocean life: shadowy
hammerheads
passing through depth-piercing sun rays;
dolphins
propelling themselves skyward to get a better look at us; the surprising company of
terns
and
gulls
so far from land;
loggerhead sea turtles
basking on the ocean's surface; hundreds of
cownose rays
flying just beneath the water's surface. These images, and many others, stay with me. The ocean is a mysterious, thrilling place.
Sadly, it is also
a

threatened

place
. The most dire reports forecast that the ocean's fish species will be depleted by mid-century. If that should come to pass, the commercial seafood industry will no longer be viable and, more seriously, our world's biodiversity and ecological integrity will have been dealt an awful blow. Because of
my latter day hunter-gatherer approach to fish and meat consumption
, the only
shellfish
I consume are those few
blue crabs
and
clams
that
I pull from the Eastern Shore's tidal estuaries
. I rarely fish these days, so fish species are off my menu altogether.
Food writer Mark Bittman
would likely approve of my vegetarian-unless-I-kill-or-catch-it ethic. In a recent
New York Times
article, "
Loving Fish, This Time With the Fish in Mind
" (June 9, 2009), Bittman argues for a more conscientious approach to seafood.
"In the meantime, I'm careful. I don't make excuses, like 'There's cod in the market, so someone is catching it somewhere,' or 'If I don't buy it, someone else will,' or 'This chef serves local food, so he must serve sustainable fish.' If I'm going to eat fish, it must be consciously and thoughtfully.

My approach - which I readily admit is a work in progress and is as imperfect as my approach to all foods - goes something like this:

- I don't buy or order the common fish I can easily keep in mind as being super-troubled — most cod, for example, or bluefin tuna, most species of shark and skate. When in doubt, I move on.

- With rare exceptions, I don't buy or order farm-raised fish, except clams and oysters. Farmed mussels and shrimp don't seem to come with egregious environmental consequences, but neither tastes like much, either.

- I don't eat fish as often as I once did. (I don't promote eating it as I once did, either.)

- And I keep re-evaluating these 'rules,' and thinking about them. The 'safe' lists are difficult to understand, impossible to remember and change frequently. When the fishing of a species is well managed, it can recover and become sustainable. When it's not, the stocks of that fish disappear, sometimes quickly.

I'm probably not going to stop eating fish. And fortunately I don't have to, since there are species that have never been depleted - squid and mackerel, for example - and those that have recovered, like haddock and Maine lobster.

It's improbable that I'll eat in a perfectly sustainable manner, even though I probably eat one-third as much fish as I did a few years ago. I'm trying not to let perfect become the enemy of good, and I'm trying to find a place that feels comfortable. That place is to see eating fish as a treat. I won't eat it daily or in huge quantities, but occasionally, with appreciation. The days of 'see it/eat it' are gone."
Every educated eater should do the same, and each of us should strive to educate ourselves further. It's the ethical thing to do.
Time and evolution will march on, heedless of our nostalgic and preservationist impulses, but their ambivalence doesn't mean we've license to shrug and capitulate to the selfish wonts of the average consumer. Future generations should bear witness to the wonderful abundance that we have known and, to a lesser degree, still know. If we eat with an open mind and heart, perhaps that can be so.
Image credit:
photograph by Corney Arnold; ripped from
the artist's website