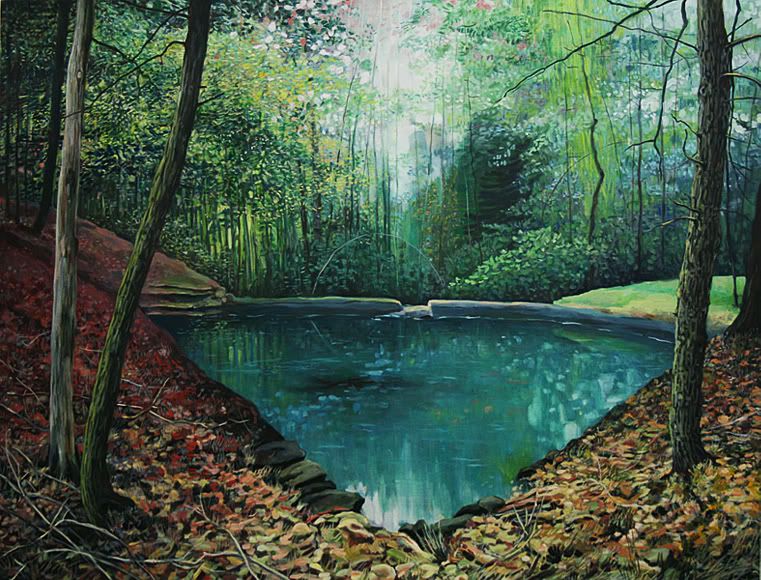 Amy Talluto
"Blue Pool"
2009
Oil on canvas
40 x 52 inches
Reading Mary Duenwald's recent
New York Times
article "
The Land and Words of Mary Oliver, the Bard of Provincetown
," I was particularly charmed by the following passage.
From time to time over what she has called her '40-year conversation' with Ms. Cook, [Ms. Oliver] or the couple together would go off to places like Sweet Briar, Va., and Bennington, Vt., where Ms. Oliver would teach poetry writing. But their home base was always Provincetown.

'People say to me: wouldn't you like to see Yosemite? The Bay of Fundy? The Brooks Range?' she wrote in Long Life, a book of essays. 'I smile and answer, 'Oh yes — sometime,' and go off to my woods, my ponds, my sun-filled harbor, no more than a blue comma on the map of the world but, to me, the emblem of everything.'"
I'd like to accurately claim, as Oliver does, a deep familiarity with one landscape and ecology. Although
I'm romantically rooted in the sulfurous soil of Virginia
's coastal
salt marshes
, like many Americans, I've lived a relatively transient life, so far calling three states (and more houses or apartments than I can count on both hands) home. Still, the ascetic aspect of my temperament is moved by the notion of staying put, of refraining from travel in order to better cultivate continuity, peace of mind, and sense of place. The terms "provincial" and "parochial" have pejorative associations, but I believe there is a lot to be said for those individuals who appreciate their home ground as only a true local can.
If Oliver is right, rootedness is especially significant for artists. Reading some of Oliver's poetry last night, I rediscovered this early work, from 1963.
No Voyage
I wake earlier, now that the birds have come
And sing in the unfailing trees.
On a cot by an open window
I lie like land used up, while spring unfolds.
Now of all voyagers I remember, who among them
Did not board ship with grief among their maps?--
Till it seemed men never go somewhere, they only leave
Wherever they are, when the dying begins.
For myself, I find my wanting life
Implores no novelty and no disguise of distance;
Where, in what country, might I put down these thoughts,
Who still am citizen of this fallen city?
On a cot by an open window, I lie and remember
While the birds in the trees sing of the circle of time.
Let the dying go on, and let me, if I can,
Inherit from disaster before I move.
O, I go to see the great ships ride from harbor,
And my wounds leap with impatience; yet I turn back
To sort the weeping ruins of my house:
Here or nowhere I will make peace with the fact.
-Mary Oliver
Image credit:
courtesy, the artist