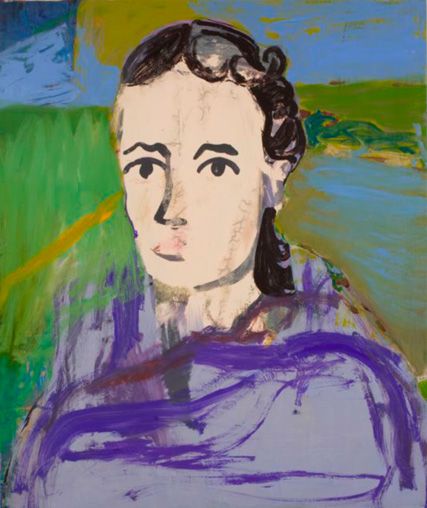 Jackie Gendel
"Prairie"
2004-2009
Oil on panel
One of my
"Synesthesia #1" limited edition prints
is included in "
Single Lady
," a group exhibition that opens on Tuesday evening. The show is curated by
Jenny Salomon
,
Candice Madey
, and
Kate Gilmore
, and includes a good number of terrific artists. Importantly, half of all proceeds will benefit
Afghan Women Leaders CONNECT
.
"Single Lady" Press Release:
Opening reception: Tuesday, June 8, 6-9pm
224 Washington Avenue
Clinton Hill, Brooklyn, NY

For Single Lady, Jenny Salomon, Candice Madey, and Kate Gilmore invited 33 artists to exhibit art works in which the central subject matter references the female figure. Works are figurative and abstract, and in various media.
Half of all proceeds from sales will be directed to the artist and the other half will benefit Afghan Women Leaders CONNECT, an organization founded by Diana Rowan Rockefeller that invests in local leadership and community-driven development in Afghanistan. The organization evaluates and supports Afghan women in delivering health care, education and economic empowerment to Afghan women and children.

Through Afghan Women Leaders CONNECT, proceeds from Single Lady will fund a vocational training program (tailoring and embroidery) for 100 women in Kabul. The women will learn technical skills as well as marketing skills. After graduation, they will receive a tool and material kit to be able to start home-based businesses. A marketing officer will help to develop market linkages between the women and local sellers, and will contact microfinance organizations such as First Micro Finance Bank, BRAC, ASMED /USAID and FINCA-Afghanistan to introduce the women as loan applicants. The trainees also will participate in a literacy course that follows the Ministry of Education's curriculum for one hour per day, five days a week.

Single Lady features works by Bill Adams, Fariba Salma Alam, Pedro Barbeito, Rhona Bitner, Michael Paul Britto, Patty Chang, Patricia Cronin, Nancy Davidson, Jenny Dubnau, Joe Fig, Natalie Frank, Zipora Fried, Jackie Gendel, Kate Gilmore, MK Guth, Jesse Hamerman, Karen Heagle, Marie Lorenz, Sangram Majumdar, Suzanne McClelland, Kelly McRaven, Ivan Monforte, Erika Ranee, Christopher Reiger, Jaye Rhee, Jenny Salomon, David Schoerner, Jenny Snider, Jennifer Viola, Stacy Lynn Waddell, Jo Ann Walters, Martynka Wawrzyniak and Francine Wolterbeek.

The exhibition is open by appointment June 8 – June 29.
For more information or to make an appointment please contact Jenny Salomon at jennifercsalomon@gmail.com