On a beautiful fall Saturday, I visited a number of
San Francisco
's downtown galleries with
Brian Friedman
, a good friend and artist who was visiting
the Bay Area
from
New York City
. Although I'm very happily installed on the west coast, I haven't lived here long enough to establish close friendships, and I was impressed by how much I appreciated spending time with a friend with whom I'm so comfortable. Maybe I'm getting prematurely sentimental? Sentimental or not, I'm still a harsh judge of artwork, and most of what Brian and I viewed was unremarkable. Fortunately, there were a few exceptions.
+++++
"
Narwhellian
"
Seth Koen
at
Gregory Lind Gallery
Seth Koen
"Djiril"
2010
Wood
43.25 x 72 x 8.25 inches
Sculptor Seth Koen produces work that appeals in equal measure to my formal sensibility and my imagination. Viewers who prioritize craft will delight in Koen's refined and sensuous surfaces and formalists will applaud the forms' casual elegance. As playful as they are soulful, some wear knitted contraceptives or
melt impossibly
while
others
limn space's transcendental properties almost as effectively as a
James Turrell
light work.
My principal pleasure, though, is considering what the esoteric objects might represent or be. The artist avoids didacticism -- he shows instead of telling -- and the sculptures are more open-ended and interesting as a result. Are they abstracted
totem animals
, as the exhibition's title, "Narwhellian,"
might suggest
? Are they instead the tools or ritual objects of some unknown, aboriginal population? Or are they sophisticated, conceptual responses to our contemporary political predicaments,
another reading of the show's title
? The answers, of course, are supplied by each viewer.
Seth Koen
"Medusa" and "Arachne"
2010
Wood / Wood and thread
63.5 x 5 x 7.75 inches
69 x 6 x 6 inches
+++++
"
Incidental Objects
"
Andy Goldsworthy
at
Haines Gallery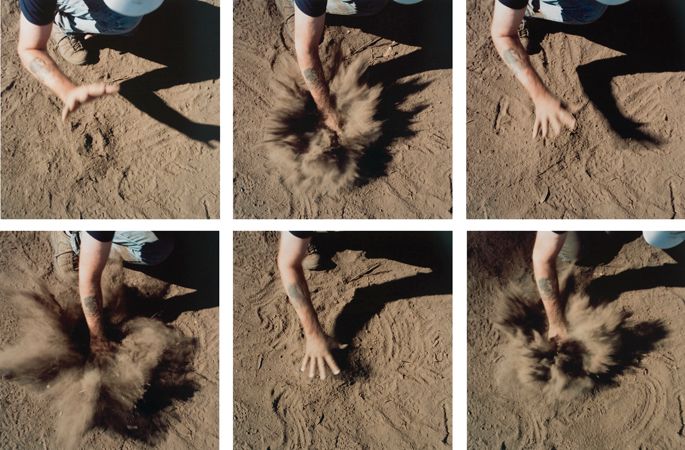 Andy Goldsworthy
"Hand hit site dust, Presidio Spire, October 2008"
2008
6 unique C-prints
16 x 16 inches, each
Could it be that Andy Goldsworthy is at last taken seriously? These days, I don't receive as much grief as I used to when I admit that I admire much of Goldsworthy's effort. Perhaps the self-conscious, punishing cool of conceptualism is finally beginning to wane, making room for artists who aspire to
the sublime
and wear their
Romantic
and
mystical impulses
like badges of honor? Whether or not Goldsworthy's work is taken seriously by his contemporaries, however, it is no less important. That's not to suggest that all (or even most) of the artist's output is particularly notable; nevertheless, when Goldsworthy connects, he produces profound and potent work.
A few gems are included in "Incidental Objects," his current show at Haines Gallery. The strongest work in the show is a series of photographs titled, "Hand hit site dust, Presidio Spire, October 2008." The photos document an unremarkable gesture captured in six frames; the artist smacks dry, dusty ground at the site where
his "Presidio Spire" sculpture
would later be constructed. By presenting the action in a
Muybridge-style
sequence, Goldsworthy invites the viewer to ruminate on the significance of the crude, abrupt mark-making; in so doing, he invests the unremarkable with significance or, as the exhibition's title terms it, the "incidental" is rendered radically full of meaning.
Few artists are so interested in getting dirty. Playing in the mud, Goldsworthy asks vital questions about our contemporary relationship to terrain, ritual, time, and natural processes. It's interesting, then, that video and photography, mediums we associate with an anthropological remove and even sterility, are the artist's most effective means of documentation and presentation.
+++++
"
Recent Paintings
"
Stephen Beal
at
George Lawson Gallery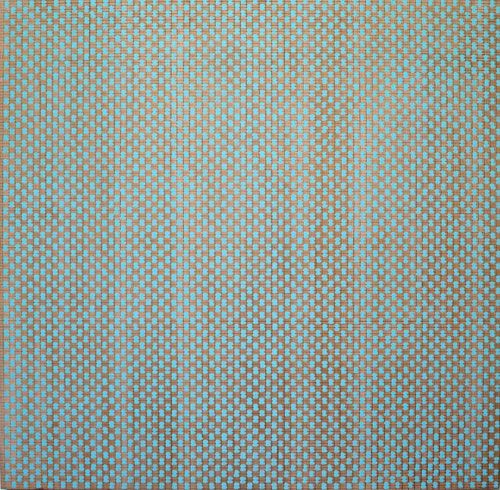 Stephen Beal
"untitled"
2010
Acrylic, gouache, and graphite on wood panel
31.75 x 31.75 inches
In the Bay Area art community, Stephen Beal might be better known for his regional academic and managerial activity than for his artwork. Like many other working artists, Beal is a college professor, but he's also the active President of the
California College of the Arts
(CCA), a Board member of the
Yerba Buena Center for the Arts
, and Board President of the
Creative Growth Art Center
. Impressive and laudable though his contribution to Bay Area arts is, I'm pleased to report that his show of recent paintings at George Lawson Gallery proves he's an artist who "sunlights" as an arts administrator rather than an arts administrator who moonlights as an artist.
All of Beal's paintings hum and vibrate, and his brightly colored works crackle with energy; generally, however, his strongest pieces are understated, more
Om
than
bug zapper
. Admiring "untitled" (pictured above), Beal's repetitive, paced process calls to mind the meditative work of
Agnes Martin
. The finished, undulating picture, however, relates more to
Mark Rothko's transcendental canvases
. (Tweeting contemporary benefactors: "21st Century
Chapel
, Anyone?" But, until Daddy or Momma Warbucks steps forward to give Beal a permanent space to transform with his pictures, his work will transform one collector's wall at a time...and that's no incidental thing.)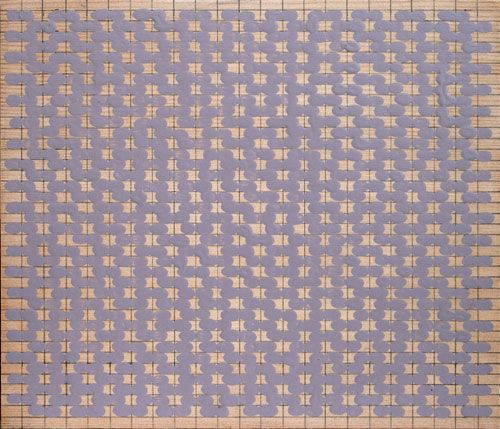 Stephen Beal
"untitled (sb03)"
2010
Acrylic and graphite on wood panel
8 x 9 inches
Image credits:
all images, courtesy the respective gallery websites