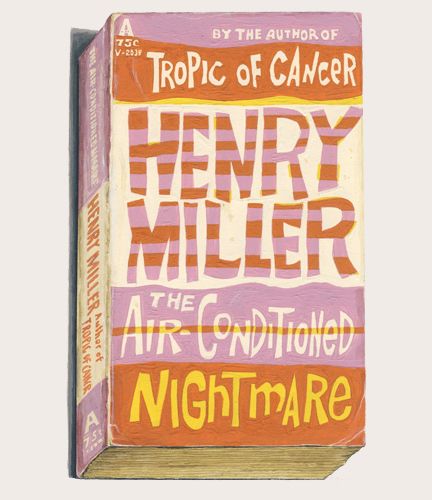 Richard Baker
"The Air-Conditioned Nightmare"
2010
Gouache on paper
12 x 10.5 inches
My write-up
of artist
Richard Baker
's
gouache portraits of books
is included in the most recent issue of
Art Practical
, an online magazine focused on the
Bay Area
's visual arts.
The short piece
appears in
AP
's Shotgun Reviews department. Read it
here
.
An element of Baker's work that I don't mention in the
AP
review is its special relevance to
San Francisco
; the artist's selection of titles and authors highlights the city's rich literary history. Happily,
the town remains chock-a-block with neighborhood bookstores and reader-friendly cafes
. Yet
Kindles
,
iPads
, and conversations about "the death of print media" abound. Indeed, even we bibliophiles find ourselves doing more (if not most) of our reading on electronic devices. Soon, our cherished libraries and bookstores may be considered the equivalent of charnel houses. If so, I'll still retreat to those tombs to touch, smell, and otherwise be with books. I'm guessing Baker will, too.
Baker's book portraits are on view at
Gregory Lind Gallery
through February 26th.
Image credit:
courtesy Gregory Lind Gallery