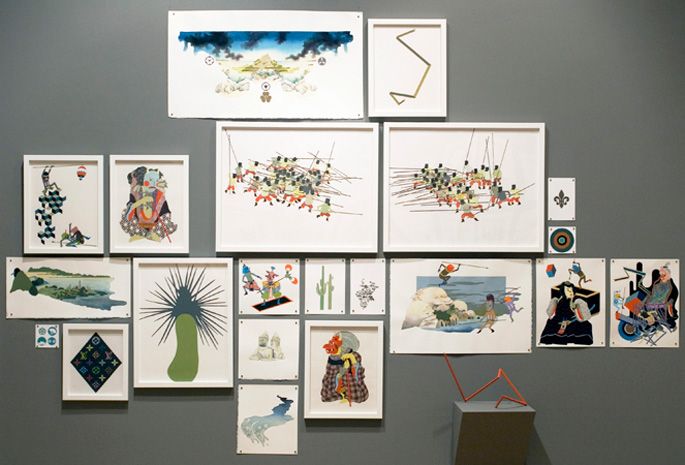 Installation at Haines Gallery
"Studies for

La Destitution de la Jeune Fille

"
2010
Gouache on paper and wood
Dimensions Variable
French artist
Katya Bonnenfant
has adopted the moniker
The Old Boys' Club
.
TOBC's current exhibition
at
Haines Gallery
- a scaled-down version of
the recent wallpaper and sculptural installation
at the
Yerba Buena Center for the Arts
- is titled "
La Destitution de al Jeune Fille
(The Deposition of the Young Girl)." According to the gallery's press release, the title references a "post-
Situationist
theory [...] initially put forth by the anonymous collective,
Tiqqun
." Apparently, Tiqqun "advances the notion of the young girl as embodiment of the capitalist machine and the meaninglessness of modern life." Further research reveals that the preponderance of content published in
Tiqqun's now defunct journal
is jejune and impotent pseudo-philosophy, the sort of tripe that too many artists mistake for genuine thoughtfulness. Happily, despite her meager inspiration, TOBC puts on a good show.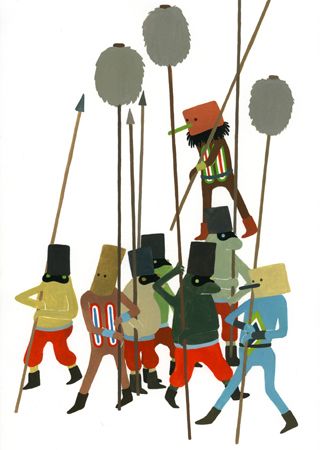 "Study for

La Destitution de la Jeune Fille

#41"
2010
Gouache on paper
12 x 9 inches
The back gallery at Haines is pleasantly crowded with TOBC's colorful and riotous gouache drawings and sculptures. Bonnenfant's cast of cartoon characters is diverse; celebrities like
Darth Vader
and
Waldo
appear, but most of the artist's spear-wielding insurgents are humble and unfamiliar. What treasure or ideology are they fighting over, exactly? Narrative particulars are few and no critical players or turning points are obviously apparent; it's a ceaseless and meaningless melee (like Tiqqun's conception of modern life!).
The opaque, vivid colors of TOBC's gouaches call to mind the advertising industry's heraldry and, in combination with the masks and costumes of Bonnenfant's characters, emphasize the combatants' ethnic or cultural differences. The effect is gestalt; Bonnenfant's oddball cast of warrior mascots is a manifestation of the physical and economic violence of globalization. That's also what Tiqqun aimed to communicate but, where they failed, TOBC succeeds artfully and without pretension.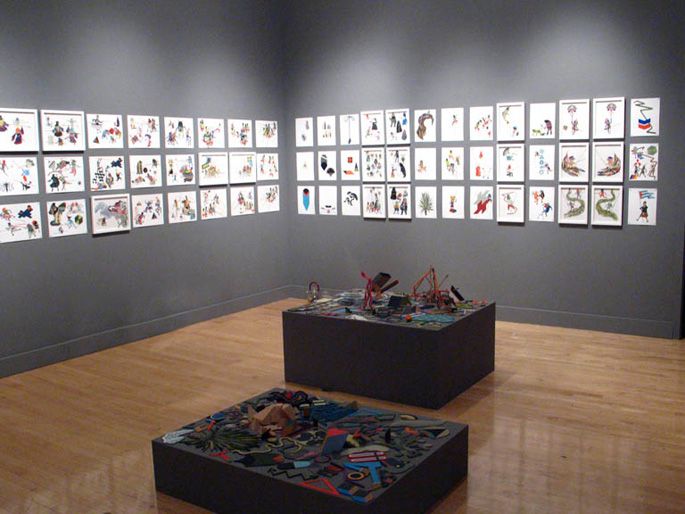 Installation at Haines Gallery
"Studies for

La Destitution de la Jeune Fille

"
2010
Gouache on paper and wood
Dimensions Variable
Image credits:
all images from
the artist's website
and
Haines Gallery website