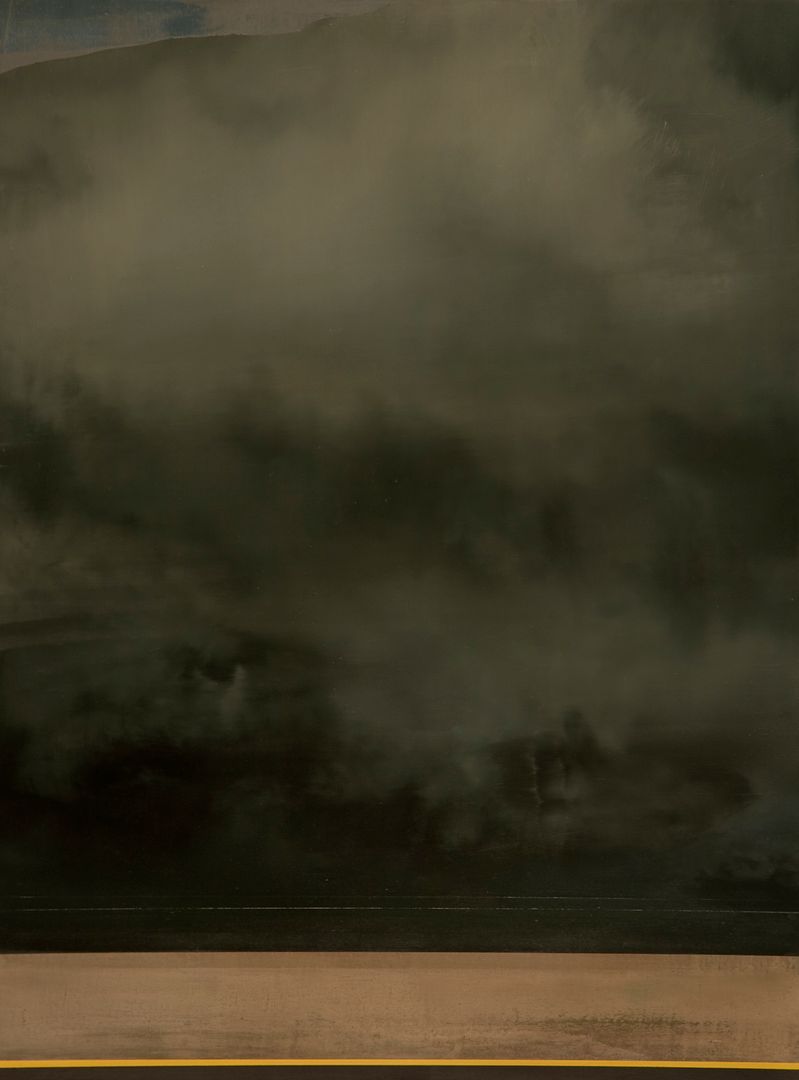 Christopher Saunders
"Whitenoise no. 1"
2008
Oil on linen
24 x 18 inches
In
a 2009 post
about painter
Christopher Saunders
' "Whitenoise" series, I recounted philosopher
Arthur Schopenhauer
's hierarchy of aesthetic experience and connected it to Saunders' work.
"In his volume The World As Will and Representation (1818), Schopenhauer elucidated a scale of aesthetic experience. At one end of this spectrum, he described the 'Feeling of Beauty' as 'Light...reflected off a flower. (Pleasure from a mere perception of an object that cannot hurt [the] observer.)' At the other end of the spectrum, the philosopher positioned the 'Full Feeling of Sublime' and the 'Fullest Feeling of Sublime.' These categories are described, respectively, as 'Overpowering turbulent Nature. (Pleasure from beholding very violent, destructive objects.),' and 'Immensity of Universe's extent or duration. (Pleasure from knowledge of observer's nothingness and oneness with Nature.)'

[...] Most modern humans (especially modern humans in the First World) are insulated from inclement weather. We fret over a rained-out ball game or beach party, but we rarely tremble before dark cloud heads; our appreciation of the elements is principally one of admiration, an aesthetic experience that resides near the middle of Schopenhauer's scale. But Saunders' landscapes provide viewers with a vantage point that repairs the reverent awe that we once felt before the expansive firmament. He does not include the rugged, mountainous imagery familiar to most artistic depictions of the Sublime. Instead he portrays clouds pushing over a featureless land, the violent potential of atmospheric flux readily observable at a distance. The clouds, vast, magnificent, menacing, dominate Saunders' compositions; they are the rough mountains of our inner wilderness."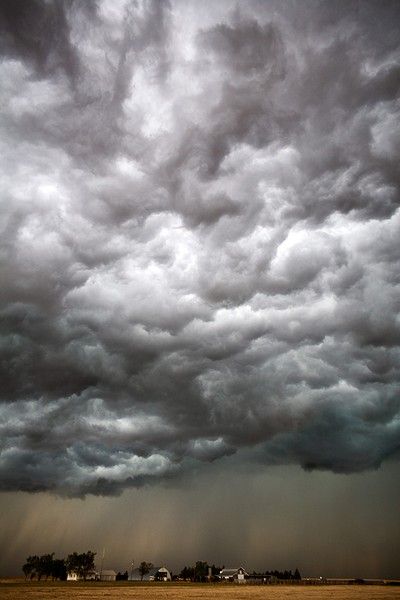 Camille Seaman
"Each Year We Pray"
2008
Archival Pigment Print, Edition of 5
32 x 48 inches
I thought of Saunders' paintings when I visited
Corden/Potts Gallery
last week and was introduced to the photography of
Camille Seaman
. Cloudheads also dominate Seaman's pictures. To produce her "Big Cloud" series (2008), the photographer crisscrossed
Texas
,
Kansas
,
Nebraska
,
Oklahoma
, and
the Dakotas
chasing
supercells
, powerful thunderheads associated with hail, downpours, and strong winds. Her description of the storms -- "In that force is also creation." -- suggests an appreciation of the sublime.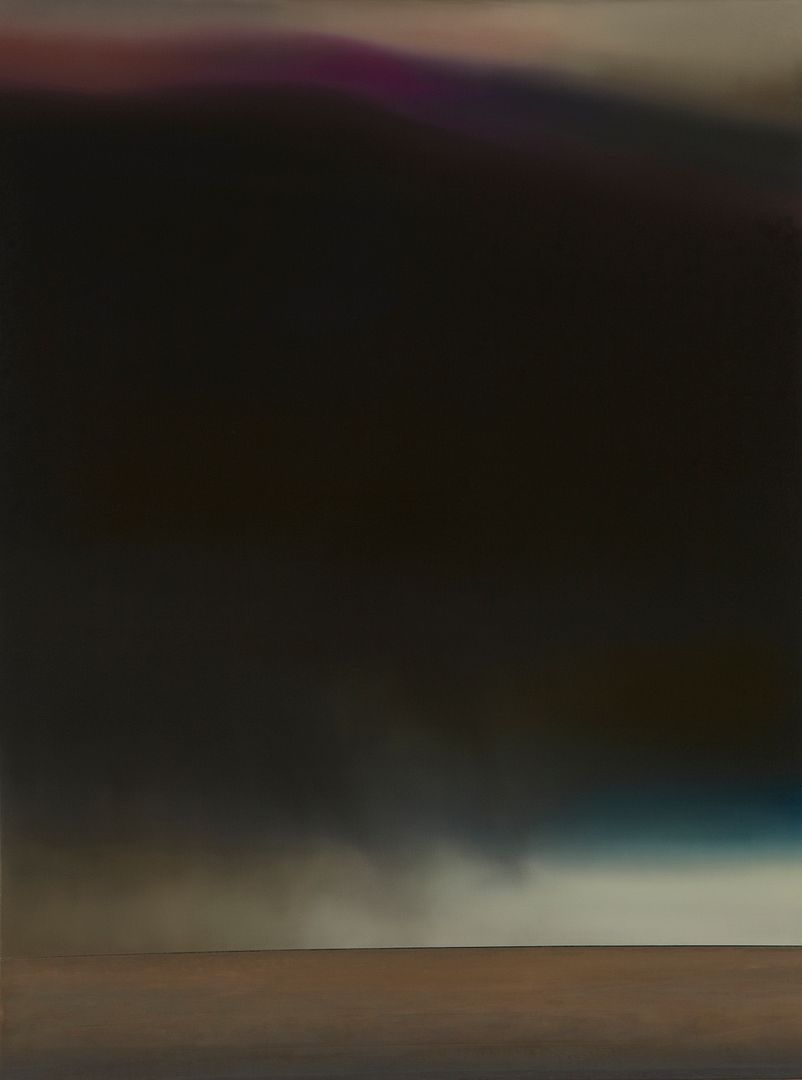 Christopher Saunders
"Whitenoise no. 14"
2011
Oil on linen
24 x 18 inches
The press release for "
The Fair and Open Face of Heaven
," a concurrent 2-person show in
New York City
that features new paintings by Saunders, notes that, "though there is the sense of the sublime [in Saunders imagery], there is certainly the portent of doom." The "though" is unnecessary; sublime experience, as our brooding friend Schopenhauer made clear, is nothing if not fearsome. Existential dread is often the foundation of spiritual euphoria. As I observed in the earlier write-up on Saunders, the "surrender of self also opens our field of vision to the infinite variety and scope of being; through negation, liberation."
The modern man/nature dichotomy of
the Romantics
is best dismissed as naive ideology, but it's not entirely without value.
Arcadia
, the pastoral Utopia celebrated in so many paintings, poems, and scores, is a fiction, but the Romantics weren't exactly wrong in insisting that bucolic and frontier settings act as a curative to what they viewed as urban and industrial decadence. Although experiences of the sublime like those Schopenhauer categorizes occur in living rooms, houses of worship, and on bustling city streets, they're more easily afforded outdoors, under the sky's great canopy. In a gallery space, we're unlikely to be awe-struck or shaken to the extent that we might be were we, like Seaman, kneeling beneath a roiling supercell. But one of the principal joys of art is its ability to provide us with inklings of the sublime and the ineffable, no matter the setting.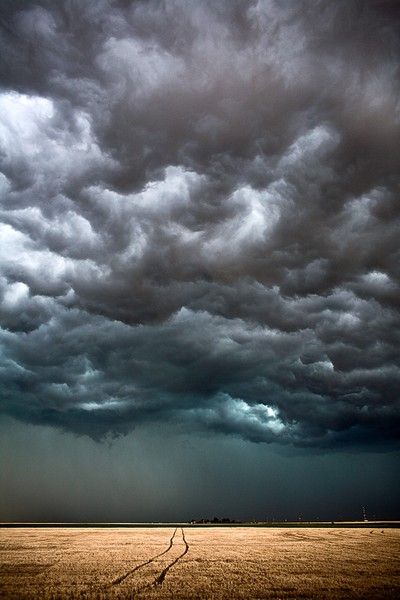 Camille Seaman
"Tracks Through the Field"
2008
Archival Pigment Print, Edition of 9
20 x 30 inches
Christopher Saunders' paintings are on view at
Allegra LaViola Gallery
(179 East Broadway, NYC) through February 4. Camille Seaman's photographs are on view at Corden/Potts Gallery (49 Geary Street, Ste. 410, San Francisco) through February.
Image credit:
courtesy Christopher Saunders and Corden/Potts Gallery