Yayoi Kusama
"Obliteration Room"
2011-12
Yayoi Kusama
calls herself an "obsessive artist." Indeed, she's obsessed with
polka dots
; her paintings, sculptures, and constructed environments are almost always speckled with them. But Kusama's singular commitment to circles and pattern isn't her only
"outsider artist"
qualification. Since the mid-1970s, the artist has voluntarily committed herself to a
Tokyo
mental hospital, where she continues to create new work.
I recalled this last fact when I first saw photographs of Kusama's "Obliteration Room," an installation included in her "
Look Now, See Forever
" solo exhibition at
Australia
's
Queensland Art Gallery of Modern Art
. "Obliteration Room" began as a completely whitewashed interior space. The room's couches, bookshelves, kitchen table, cupboards, house plants, and piano were all colorless. When the museum exhibition opened, colorful stickers were distributed to installation visitors, and children were especially encouraged to cover whatever they pleased. Over time, the whitewashed installation has exploded in vibrant color, its once discernible space transformed into a perception-warping experience. The room, as the installation's title predicted, has been obliterated.
Yayoi Kusama
"Obliteration Room"
2011-12
"Obliteration Room" might arouse the ire of
Jerry Saltz
and other critics weary of
Relational Aesthetics
. Despite countless curatorial essays complicating its definition, Relational Aesthetics is just a term applied to artwork that incorporates viewer interaction. Most of the artists celebrated for their Relational Aesthetic achievements --
Rirkrit Tiravanija
,
Carsten Höller
, and
Pierre Huyghe
are the best known representatives -- produce work that,
as Saltz wrote
in his December
New York

magazine
column
, fails to provide "much in terms of form, social commentary, or the willful transformation of materials. It's arty junk food."
Yayoi Kusama
"Obliteration Room"
2011-12
Kusama's "Obliteration Room" distinguishes itself because the "relational" aspect of the project -- the distributed stickers and visitor interactivity -- eventually results in a transformative, "aesthetic" experience. Rarely do works considered part of the Relational Aesthetics camp move beyond the vitality of the act itself; generally speaking, there is little aesthetic, in the traditional sense of the word, about Relational Aesthetics. Refreshingly, Kusama's simple installation places equal emphasis on both the interactive role of the viewer and the visual result.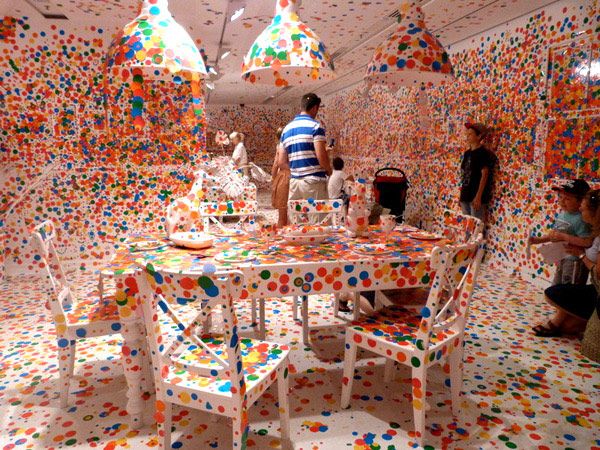 Yayoi Kusama
"Obliteration Room"
2011-12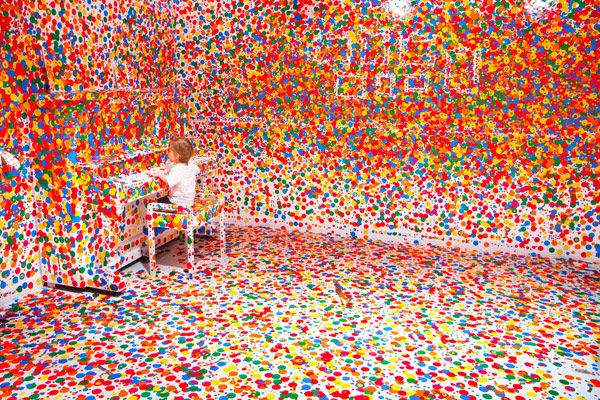 Yayoi Kusama
"Obliteration Room"
2011-12
Thanks to
Colossal
for drawing Kusama's installation to my attention.
Image credit:
top three images, courtesy Queensland Art Gallery and Mark Sherwood; bottom two images,
Stuart Addelsee