Ernest Jolly
"Limbo"
2012
Disco ball, flocking, wire, leather thread, and foam
Dimensions variable
One has to marvel at the inscrutability of the sculptures and installation
Ernest Jolly
includes in "
The Labor Party
," his current solo exhibition at
Patricia Sweetow Gallery
. "Carry Me Home," a wheelbarrow fashioned of frosted Plexiglas and metal, and "Limbo," an installation featuring a half-flocked disco ball spinning above leather punching bags, are compelling and surreal creations. Yet I connected neither to the plight "of the black agricultural worker in the
Southern United States
before the
First World War
," their conceptual substance according to
the gallery's press release
, which almost reads as if it describes a piece of choreography or theater.
"The punching bags represent the hero of the field laborer, a Black Prize Fighter, whose strength was respected in a world where the laborer was powerless. If only for a brief moment, and with great cathartic justice, The Prize Fighter could break the color barrier, by competing with, and potentially beating the white fighter. [...] The globe, while being a ubiquitous object at dance halls, also gives voice to the specific dance 'Limbo' - dancers move under a pole that is gradually lowered from chest level, and when cleared is considered the triumph of life over death. In Jolly's 'Limbo' the transformation of hope, life, and place are revolving in his disco sun, casting an eclipse in a profound struggle for life."
None of those rich details come across in the work, but if Jolly's wheelbarrow were used as a theatrical prop or his installation as a setting, the objects would acquire their conceptual significance in the context of a performed narrative. As is, displayed in the vitrine-like white cube, they're merely esoteric curiosities, wholly dependent on the words of the artist, curator, or critic to provide a particular meaning. Jolly is a musician as well as an artist; I'd like to see him create a more fully realized production: a video with an original score, or even a collaboration with a choreographer on a live performance.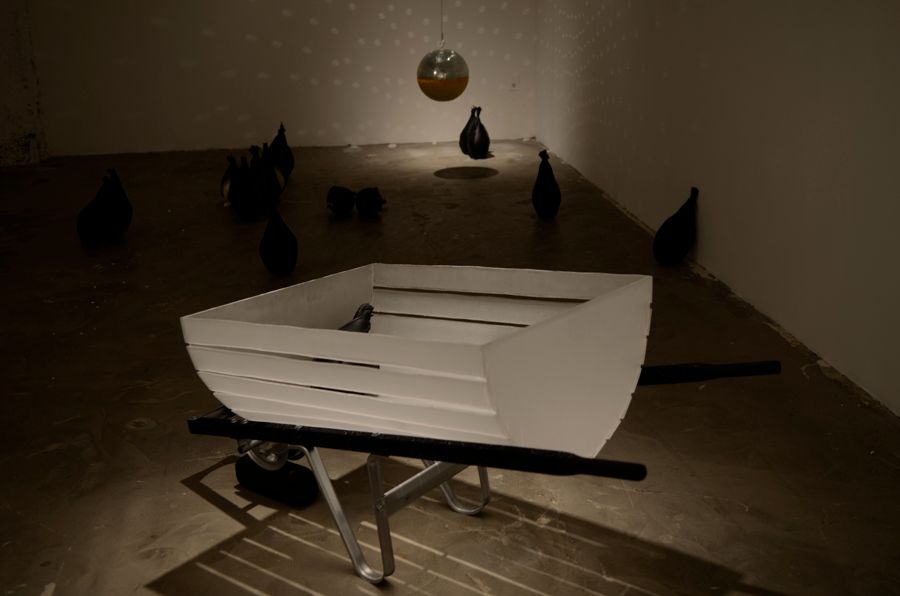 Ernest Jolly
"Carry Me Home"
2011
Acrylic, wood, metal and rayon
Dimensions variable
Ernest Jolly's work is on view at Patricia Sweetow Gallery (77 Geary Street, San Francisco) through February 11.
Image credit:
courtesy Patricia Sweetow Gallery website