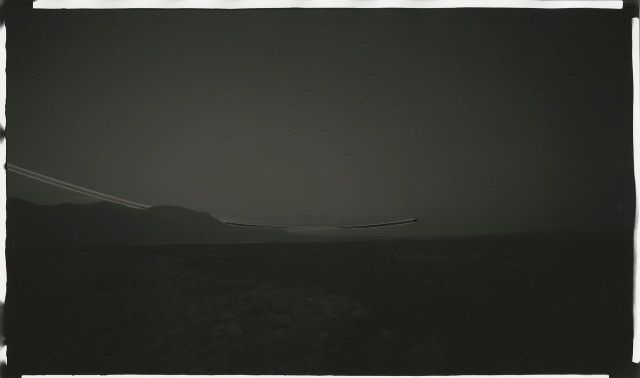 Chris McCaw
"Sunburned GSP#420 (Arctic Circle, Alaska)"
2010
Unique gelatin silver paper negative
12 x 20 inches
Chris McCaw
created the arresting pictures on view in "
Ride Into the Sun
," the artist's winter 2011 solo show at
Stephen Wirtz Gallery
(San Francisco, CA), using an unconventional technique. The artist loads handcrafted view cameras as large as 30 x 40 inches with expired
silver gelatin photographic paper
, tilts the camera lenses skyward, and opens the shutters for hours. Even on cloudy days, the photo paper is soon overexposed. As time wears on, however, the light-sensitive chemicals that coat the paper are
solarized
, and the prints' tones are transmuted in curious ways. In many of McCaw's works, the sun appears as a dark, arcing streak and the landscape and sky as shades of grey. During some of McCaw's longer exposures, the sun's brilliance, laser-like, burns through the paper, tracing its progress as a charred tear.
The photographs document the sun's position as
our planet
orbits
the minor star
, but the strangeness of the solarized landscapes and the urgent marks and slashes drawn by the sun emphasize the extraordinariness of
a phenomenon
we take for granted, and typically pay little attention to. This viewer was compelled to contemplate our planet's four-and-a-half billion year old course. During that span, continents have morphed and moved, disappeared and reappeared; so, too, have countless organisms evolved, thrived, and then gone extinct. McCaw's prints frame expanses of sky, but their underlying subject is the mysterious dimension-force we call
time
.
Chris McCaw
"Sunburned GSP#467 (Full day/Puget Sound, WA)"
2011
Unique gelatin silver paper negative
4 prints, each 20 x 24 inches
Time's arrow spirals on, ambivalent and interminable, providing the foundation for dynamic evolution even as it's also implicated in our bodies' decline, in the oblivion of a species, and in
a star's violent coda
. Seeing the sun as a dark and intense burn across an ashen expanse, its eventual supernova feels almost imminent. This contraction of
deep time
highlights our species' relative insignificance; it humbles us.
Yet, just as we've become generally blind to the wonder of the sun's daily doings, we increasingly deny time's dominion.
Minute and second hands
on
mechanical clocks
were introduced just over 330 years ago, but it wasn't until the late 19th century that timetables became an essential aspect of everyday life, a development driven by the Western economy's growing dependence on
railroads
. As technological advances accelerated throughout the 20th century, we created ever more efficient methods of communicating and disseminating information. Now, a decade into the 21st century, our days are fragmented into discrete chunks of time, and
we process and consume more information in 24 hours than our ancestors did over the course of years
. While it's not impossible to have your
smartphone
appointments and wonderment, too, on the whole we've voluntarily forfeited the latter for busyness and "connectivity." McCaw's stately photos point to a different sort of connection, one that intimates the metaphysical, bridging the present and the ancient via time's helix.
Chris McCaw
"Sunburned GSP #470(Full day/ Serrias)"
2011
Unique gelatin silver paper negative
4 prints, each 8 x 10 inches
Some of the pictures in "Ride Into the Sun" inspired in me something like what psychologist
Abraham Maslow
called "
peak experience
," the ecstatic sense that all being is interconnected, often accompanied by a hyper awareness of our infinitesimal nature.
Soren Kierkegaard
dubbed this "fear and trembling," the moment of "infinite resignation" before you are subsumed into the rest of it. Fortunately, such "peaks" are fleeting (it would be difficult to act in the world were one constantly enraptured), but McCaw's sublime photographs rekindle our capacity to experience awe and wonder. In so doing, they remind us that art can act as a vital corrective to cultural inertia.
Chris McCaw's photographs were on view at Stephen Wirtz Gallery (49 Geary Street, 3rd Flr., San Francisco) October 20 - December 22, 2011.

Chris McCaw
"Sunburned GSP#486 (Sunset/sunrise, North Slope, Alaska)"
2011
Unique gelatin silver paper negatives
3 prints, each 30 x 40 inches
Image credits:
courtesy Chris McCaw