Heide Hatry
is not a household name, but the
New York
-based
German
artist's reputation is blossoming. She has smartly positioned herself at the intersection of the art world and popular culture and, as a result, is of particular interest to me,
convinced as I am that the fine arts need mass reach
(if not necessarily mass appeal -- see
Thomas Kinkade
) in order
to play the vital cultural role
they're intended to.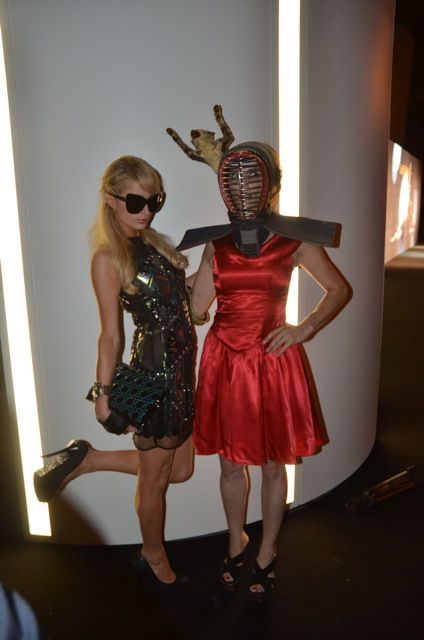 Heide Hatry, right, with Paris Hilton at the Guggenheim Museum
In September,
Hatry performed "Schrodinger's Cat" at Lady Gaga's Guggenheim Museum perfume launch
. Although
Gaga
's arty public appearances and carefully cultivated persona evidence how readily pop culture co-opts and/or draws inspiration from the fine arts, most people view Gaga as a
pop star
, not an artist. Hatry, on the other hand, is always identified as the latter, so when she is photographed rubbing shoulders with the likes of
Paris Hilton
or her work is written about by the scientist and popular writer
Steven Pinker
, I'm heartened. The art world isn't usually so accessible.
Naysayers might dismiss Hatry as the art world equivalent of a
shock jock
, insisting the popular attention she has received is only the result of
her pushing our buttons
. Certainly provocation plays a part, but Hatry has so far managed to balance titillation with thoughtful questions. (Arguably,
Damien Hirst
managed to do the same for a time...before he jumped
the preserved shark
.)
Given Hatry's knack for the tight rope walk between art world respect and popular acclaim, she's an artist to watch. That being so, I'm very pleased to have contributed a short essay to her most recent book project,
Not A Rose
. From the publisher:
Heide Hatry
"Organa aurantiaca locustarum, Boston, MA"
2011
Color photograph of site-specific sculpture

"Masked as a traditional coffee table book, Not A Rose quotes from the genre while turning it inside out, for the images it offers are not innocent, pretty flowers but elegant, compelling, yet grotesque sculptures that the artist has created from the offal, sex organs, and other parts of animals, reminding us that the flowers that grace our homes are really the detached dead sex organs of living beings, and making us question the foundations of aesthetic reception in general. Woven through the images, and taking its cue from them, is the writing of 101 prominent intellectuals, writers, and artists (such as Jonathan Ames, Jonathan Safran Foer, Donna Haraway, Lucy Lippard, Rick Moody, Avital Ronell, Steven Pinker, Peter Singer, and Franz Wright...) who address 'the question of the flower' from a multiplicity of perspectives, including anthropology, philosophy, psychology, sociology, philology, botany, neuroscience, art history, gender studies, physics, and chemistry."
Below, I've posted my
Not A Rose
contribution. The book made its
North American
debut earlier this month, and you can order a copy of the handsome monograph
here
.
+++++
Heide Hatry
"Lolligunculae aridae, pars concae, Beijing, China"
2011
Color photograph of site-specific sculpture
"Exchange & Conversion"
My childhood fascination with and fondness for animals was keen, but I gave little consideration to plant life. The flowers and vegetable plants in my mother's garden were only platforms on which to catch
butterflies
,
bees
,
wasps
,
caterpillars
, and the occasional
praying mantis
. The
lespedeza
hedgerows that paralleled the roads of
our coastal Virginia farm
provided habitat for
rabbits
and
songbirds
, and the
pine
stands were excellent places to turn up
box turtles
and
black rat snakes
. In my mind's eye, animals were the players; plants and trees were the backdrop. My father, a writer and naturalist, attempted to broaden my
ecological
understanding. He taught me about the trees and plants that populated the farm, but I mostly ignored this information. It simply didn't interest me.
It wasn't until I'd become a city-dwelling adult that I developed an appreciation for the
plant kingdom
. I grew fond of the
pothos
,
lilies
,
sansevieria
, and other common houseplants that I nurtured in my
Queens
apartment. Occasionally, during watering or pruning sessions, I would talk to them. I was well aware of how silly this behavior would appear to another person, but I excused my
anthropomorphism
as an acceptable byproduct of empathy; I was the plants' steward, after all, and chit-chat with those in our care is perfectly appropriate.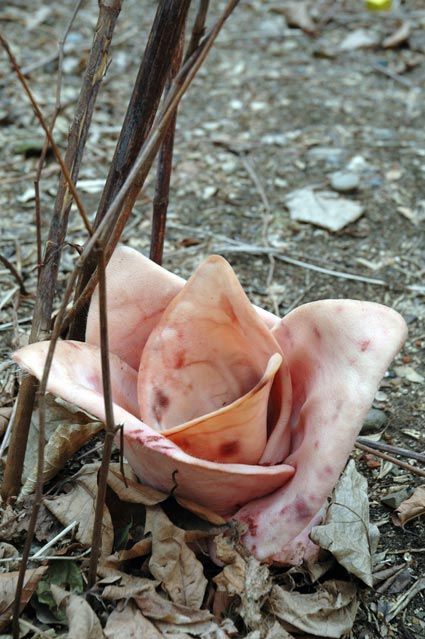 Heide Hatry
"Aures porcorum, Harlem, NYC"
2011
Color photograph of site-specific sculpture
In time, however, I discovered that there are better justifications for talking to plants. Human speech requires the exhalation of
carbon dioxide
, the
gas
that plants transmute into food (via
photosynthesis
). Therefore, my plant talk can be rationalized as another kind of feeding. Likewise, because photosynthesis produces
oxygen
, the gas that we humans breathe, my houseplants and I are a microcosm of the
oxygen cycle
, an object lesson in the interdependence of all life forms.
But my speech is not only CO2. It is also energy directed at the plant with intention, a tacit acknowledgement of my distinct relationship to another organism. This is no mean thing. The philosopher and mathematician
Alfred North Whitehead
wrote of "the immanent sociality of experience," insisting that all identity and experience is a result of relationship. We define not just who we are, but also what we are, in relation to the rest of it.
Should that strike one as too ethereal a notion, consider coevolution. 100 million years ago, when
angiosperms
exploded onto the ecological scene,
profound evolutionary forces
began shaping bees,
hummingbirds
, and
bats
, the angiosperms'
pollinators
. Concurrently, the
physiology
of the plants was modified in response to the species they depended upon for pollination. The
Spathiphyllum flower
in my kitchen is only the latest manifestation of a species that has been metamorphosing for millions of years in collaboration with other organisms and environments. The story of flowers is a story about relationship because every life story is; experience is immanently reciprocal and form is intrinsically dynamic.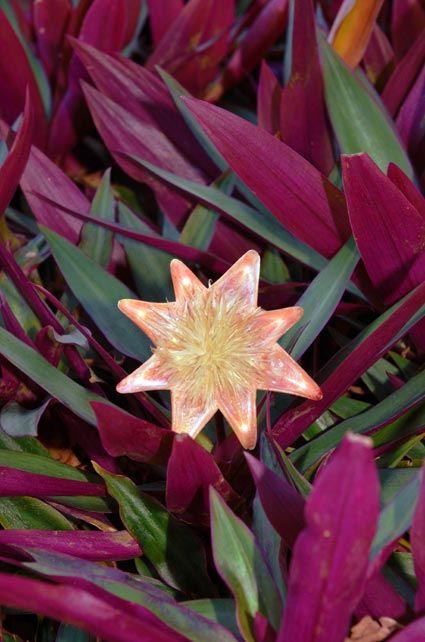 Heide Hatry
"Becci gallinarum inferiores, fibrae pinnarum ceti, Hong Kong, China"
2011
Color photograph of site-specific sculpture
Over millennia, our own species' exceptional consciousness evolved from sensate, but morally blind matter. This account makes us uncomfortable; we don't like to think of ourselves as animals shaped by the vicissitudes of time. But I'm awed – humbled, truly – by the stretch and striving of being. Life is restless. The eloquent naturalist
Loren Eiseley
wrote of life's "eternal dissatisfaction with what it is, its persistent habit of reaching out into new environments and, by degrees, adapting itself to the most fantastic circumstances." I marvel at the seductive shape and alluring colors of a flower and the aggregation of flesh, bone, chemicals, and
microorganisms
that are the human body.
I also think of life's "eternal dissatisfaction with what it is" when I survey images of Hatry's flesh flowers. At once beautiful and grotesque, these still lifes are convincing cousins to the
carrion
or
corpse flowers
, but her creations are assembled of the leftover, less desirable body parts and organs of the species that carnivorous humans consume. Hatry's decision to use material that
Westerners
usually eschew – because, among other reasons, it reminds us of our base antecedence – to craft beautiful forms is subtly provocative, goading us to wrestle with ontological questions that, like the discarded meat the artist works with, we prefer to neglect. We should not be given a pass.
Heide Hatry
"Spisulae solidissimae, cilia cervorum, oesophagus capreae, Cervi, Dallas, TX"
2011
Color photograph of site-specific sculpture
Image credits:
Photo of Paris Hilton and Heide Hatry by Steven K., ripped from
Huffington Post
; all flower photographs, copyright Heide Hatry, 2011, posted with the permission of the artist