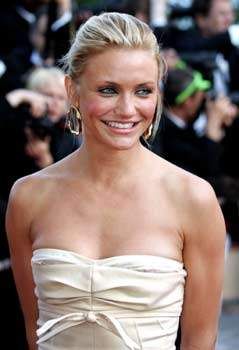 This frothy

New York Times

piece
is basically an "
advertorial
" for
Cameron Diaz
's new
MTV
program, "
Trippin
." Because I don't have a
cable subscription
, I probably won't ever see the show; I'm actually a little disappointed.
Cameron Diaz's sex appeal is rooted in her dorkdom. A gangly girl with an overgrown head and a Texas-sized smile, Diaz gets away with more than do other celebrities because she actually seems to be enjoying herself. Many people claim that Diaz, who, at 32, doesn't hesitate to use words like "frontin'," is just plain stupid, that ignorance is bliss and Diaz is simply enjoying the ride. I wouldn't suggest that Diaz comes across as intelligent or even well-informed, but I'm not so sure that she's your typical ditz. Her it's-all-good-in-the-hood posturing is an affectation. Perhaps her dumb blonde routine is exaggerated, too? With this foray into the world of television production, Diaz may be revealing some depth.
"Trippin," its ridiculous name aside, may get through to that much sought after 18-to-29 year old demographic. Watching
DMX
on a camping trip with Diaz sounds more campy than compelling, but the rapper-actor's camping foray just might ignite a spark of environmental consciousness in a young, urban DMX fan. As the article puts it,
"If young viewers' appetite for scientific knowledge is limited, Ms. Diaz is betting that their interest in celebrities will draw them to the show and help them [understand] a world beyond the exurbs and XBoxes."
Perhaps what ultimately makes me willing to give "Trippin" a tentative thumbs-up is Diaz's fascination with feces.
"In every episode, she dwells on excrement, both for laughs and for edification. She notes, in her Nepal trek, how the copious manure of rhinoceroses restores nutrients to grasslands, how birds disperse seeds through their droppings and how cow dung is used as plaster in village huts."
Score one for those of us who spend way too much time thinking about basic bodily functions!
If anyone has the time and the means to watch an episode, I would love to hear a report. Fortunately, I
will
be able to watch another television program mentioned in the same
New York Times
article. "
Strange Days On Planet Earth
," hosted by
Edward Norton
, the exceptionally talented and intelligent, if egotistical, young actor, deals with some contemporary, environmental hot topics. Fortunately, this program airs on
PBS
and my television, if I fiddle with the reception, can pick up PBS with reasonable clarity.
Photo credit:
AP/Scanpix