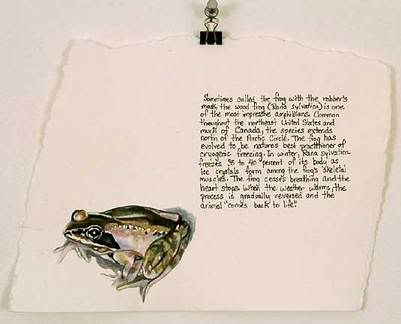 I am impressed by
cold-blooded creatures
that have adapted to cool climates and the
wood frog
(
Rana sylvatica
), one of my favorite
amphibians
, is such a species.
The watercolor posted above features a wood frog, and is part of a series that I'm currently working on. Comprised of many small watercolor paintings tacked to a wall, the series is basically a bastardized
taxonomy
. In the picture below, you can see one wall of the series, whereby the various species and individual humans have been grouped according to behavior rather than
biological type
,
physiology
,or
phylogeny
. I hope to make viewers question
anthropomorphism
while at the same time poking fun at the inadequacy of our taxonomic systems.
Also, while we're on the subject of wood frogs, this
short article
in
National Geographic
discusses the ability that has allowed wood frogs to thrive in cold climates. Incredibly, they have mastered the delicate art of
cryogenic freezing
.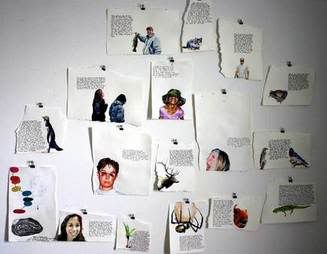 Image credits:
Christopher Reiger, 2005