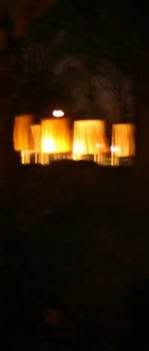 In the February 28, 2005 issue of
The New Yorker
,
Peter Schjeldahl
writes that
Christo and Jeanne-Claude
's
"The Gates" project
offers little aesthetic value. Excepting fleeting seconds of "beauty" when the late afternoon sun backlit the orange hangings, Schjeldahl finds the work "charm-free, synthetic...something you would wear only in the woods during deer season."
The critic does, however, notice a "drowsy contentment" on the faces of his fellow
Central Park
visitors and he "give[s himself] a nice scare imagining 'The Gates' magically removed, and leaving the people looking as they looked - a goofball '
Night of the Living Dead
.'"
If I consider only my daytime "Gates" experience, I agree with Schjeldahl, but my "Night of the Living Dead" moment occurred, appropriately enough, at night. After dark, the sunny backlight Schjeldahl describes is similarly effected by bright spotlights and park lamps.
On the second Saturday night of the installation, gusting wind worked in combination with the lighting to create an eerie, magical feel, one augmented by the relative emptiness of the park and the three glasses of red wine I'd just consumed.
Photo credit:
Hungry Hyaena, 2005