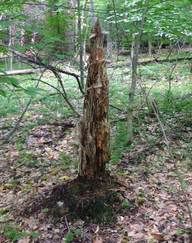 I returned from Washington, D.C. last night. The trip was a good one. It featured a baseball game - Mets and Nationals - and a trip to the National Botanic Garden, but the highlight was a leisurely hike in Prince William Park. In the course of the hike, we came upon many different species of plant and animal, but an eastern box turtle (
Terrapene carolina
), a young beaver (
Castor canadensis
) and a pair of yellow-billed cuckoos (
Coccyzus americanus
) particularly excited me. The box turtle was male - the plastron depression and red eye coloration communicate as much - and the yellow of his skin was so startling that I was able to spot him in the forest shadows. He was about ten feet off the trail, ambling by a small birch tree. I reverted to little-boy-mode and scrambled over some downed limbs to photograph and observe the handsome fellow. He was very cooperative (see below).
Though I kept my eyes open for copperheads (
Agkistrodon contortrix
), one of my favorite North American snake species, I didn't see any. More disappointing still, I found no snakes and few amphibians, even near stream banks. I rolled quite a few fallen trunks in my search, taking care to return them to their original position, but found little of note save some curious insects. I didn't have my insect field guide with me and I wouldn't be surprised if many of the species are absent from the book anyway. One day, perhaps, a truly comprehensive insect field guide will be available.
Frustratingly, I was unable to fight off a familiar sinking feeling on the train ride back to New York. Whenever I escape to rural areas, I find my spirit buoyed. I must extricate myself from the Tri-State area or risk early onset madness. Whereas I once imagined living in New York City until my late thirties, I no longer have much interest in doing so. I do want my art career to be stable before I flee to New England (or wherever I end up), but I don't think I can put in many more years here. This is not to say that I don't appreciate the city, with its spectacular electricity and intellectual energy...I just don't much appreciate
living
here.
Photo credit:
both images, Hungry Hyaena, 2005