Art, Neighborhoods, and Michael McDevitt's Solo Show
I spent New Year's Eve 2003 in
Richmond
,
Virginia
, toasting the arrival of mid-winter and catching up with a few college buddies.  Over the course of that rainy, celebratory evening, a number of proud locals raved about the Richmond art scene.  At times, their exaltation was extreme. Two artists proclaimed Richmond's cultural milieu superior to that of
New York
or
Los Angeles
.  I recall one particularly drunk young man telling me that Richmond was the best place to be making art and that, even if money were no object, he wouldn't want to work anywhere else.  All of this self-congratulation seemed inflated and defensive and, although I only listened that night, I returned to New York feeling certain the Richmonders were deluding themselves.
This past Thursday, I returned to Virginia's capital. I'm happy to report that my impression of the city's art community is much improved.  The upbeat energy and sense of camaraderie enthused me.  Walking down
Broad Street on Friday night
felt little different than a Thursday in
Chelsea
: throngs of gallery goers crowded the sidewalks and mingled in gallery spaces sipping wine, eating crackers, and generally having a grand ol' time.  Gone completely is the sense that the Richmond art community has a chip on its shoulder.
My earlier, negative assessment was colored by the insecurity underlying the claims made that New Year's Eve, but it was also influenced by the naive notion that the art universe revolves around New York City.  Three years ago that was easier for me to believe.  I was just out of graduate school, at the time, and full of beans.  More importantly, though, I better recognize now just how fluid and subjective the art world is.  It isn't a question of what city is "the best place to be making art," but rather, what city, town, or deserted island is the best place for
you
to make art and, apparently, Richmond suits a lot of folks just fine.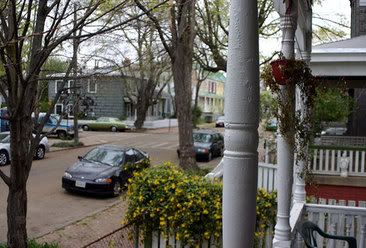 The
Chinatown Bus
arrives in Richmond around midnight and local bars close at 2:00 AM, so after a couple of quick drinks on Thursday night, we returned to my friend's house in
Oregon Hill
, the neighborhood pictured above.  Most of Friday was spent wandering around Oregon Hill and
The Fan
, both attractive neighborhoods on the northern bank of the picturesque
James River
.  Oregon Hill is celebrated as one of the few surviving
working class
neighborhoods in the
United States
, but it might not be deserving of this mantle any longer. 
Virginia Commonwealth University
, a college known for its excellent art program, has campus buildings scattered throughout the area and, as a result, the one-time working class stronghold is now "up-and-coming."  A growing population of college students and artists is displacing those working class families that remain; soon, Oregon Hill will be thoroughly gentrified, like The Fan before it.  Working class or not, however, I saw no black folks, young or old, in the area.  Apparently, this is not a recent phenomenon.  Oregon Hill has been considered the domain of "white trash" for some time.
High real estate prices (by Richmond standards) aside, The Fan is a beautiful area.  The architecture is lovely and the back alleys are inviting.  It's also nice to see so many bikes; Richmond is considered a very bike-friendly town and there are many trails in the city's plentiful parks.  Like
Williamsburg
,
Brooklyn
, trucker hats and tattoos abound in these neighborhoods.  I have no problem with caps or tats, but an "essential mass of human sameness" always bothers me, whether you're considering suburban sprawl or hipster havens.  Here, too, I was aware of how segregated Richmond is; no black hipsters made an appearance.  (In fact, with the exception of the Friday night gallery scene, I don't recall seeing many black folks on the north side of town.  On Saturday morning, however, when we drove to the south side to pick up a painting, I realized the James River serves as an unofficial race/class divide.)
On Friday afternoon, I took a nap on the floor of my friend's studio and enjoyed watching trees sway in the wind through the window.  If it didn't get so damned hot and muggy in the summer, I mused, this wouldn't be such a terrible place to live.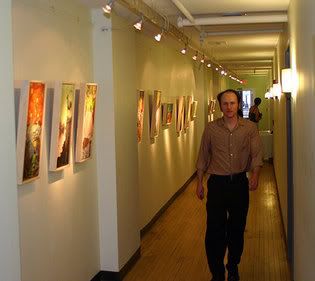 That night, I attended the solo debut of
Michael McDevitt
.  Michael is an energetic and prolific artist.  At any one time, a dozen or more paintings are strewn about his studio, in various states of completion. His willingness to experiment is unconscious; should he ruin a painting in the process, so be it.  Given the demands of the flooded art market these days, Michael's incautious approach is rare and commendable.  (I look forward to his putting up a proper website soon - one is rumored to be in the works - but for the time being, you can see some of his wide-ranging work at
Feel Free To Wander
, a blog where he posts images of recent prints, drawings, and paintings.)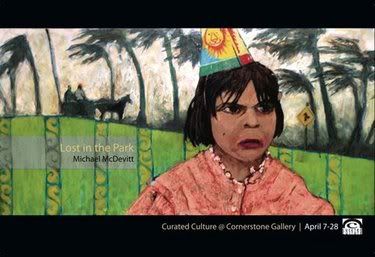 Michael's solo show at Cornerstone Gallery, "Lost In The Park: Tiny Tales of Stasis and Apocalypse," is comprised of nineteen acrylic paintings, all measuring 23 1/2 inches by 11 1/2 inches. The majority of these relatively small works are vertical in orientation and, although I heard other viewers describe them as landscapes, I see them as allegorical vignettes. The viewer is presented with the principal player (or players) - a figure, usually a child, is fore-grounded in most of the pieces - and is then left to draw his own conclusions. For example, "Is One Feather Enough?" pictures an adolescent boy holding an enormous feather in his left hand. He sits at the edge of what appears to be a playground, but the grass is dry and yellow and the boy's right arm ends in a stump. His face is sorrowful, imploring. Wallflowering near this painting, I sipped my wine and listened to the reactions of gallery goers. Invariably, they created a back-story or explanation for the picture. For some, the boy is
Icarus
, post sun exposure. For others, he is a zombie or a "mechanical boy." My personal favorite: upon noticing the arm stump, one young lady said, "Oh, my God...he's a freak. That's just depressing." (War heros and survivors of thresher accidents everywhere, do you love it?)
Despite Michael's use of bold, bright color - the intense yellow of the grass in "Is One Feather Enough?," for example - the prevailing mood of "Lost In The Park" is foreboding, even apprehensive. The humans and animals featured in the series are isolated and frail, if not physically, then emotionally. Even when characters confront or embrace one another, a melancholy remains. In "A Great Deal Of Time Passed While They Established The Rules," a wolf stares down a determined little boy. Between them, a ball rests on the ground. Initially I found the scenario - and the title - funny, but the ambivalence of the painting complicated my reaction. There is no moral point of view; there is only time passing; there are only rule changes. This conclusion may sound bleak, but given the contemporary state of things, it is perfectly fair. (What's more, it makes sense that Michael is concurrently exhibiting work in "
Richmond Represents: Grimm Fairytales
," at the
Richmond Public Library
.)

Michael McDevitt
"Autohagiography"
2006
Acrylic on Panel
23 1/2 x 11 1/2 inches
For personal reasons, I'm also fond of "Autohagiography," a painting of a boy hugging a
hyena
in a Hellish setting. Ignoring technicalities - like the number of included heads - one of my friends said, "This one could have been titled, 'Even
Cerberus
Needs A Hug.'" Indeed. Both of these animals, boy and hyena, are in need of affection, but the boy seems to go through the motions. His eyes are narrowed, his mouth tight and his posture nonchalant; there is nothing committed about his embrace. On the other hand, the hyena seems to relish the contact, leaning into the boy's shoulder. Again, we are left unsettled. What is their relationship? What is this green-eyed heathen planning to do to the affectionate hyena? Considering the painting's title, I fear the worst.

Michael McDevitt
"Samsara"
2006
Acrylic on Panel
23 1/2 x 11 1/2 inches
But I know Michael to be someone who puts a great deal of stock in the magic of both imagination and nature. Where, then, is the hope in this series? Granted, these are dark times, but my spirits are always buoyed by the sheer wonder of the universe, whether at the micro or macro level, and I know Michael also accesses this variety of joy. There are two paintings in "Lost In The Park" that reveal as much, that offer viewers some optimism. The stronger of these two is titled "Samsara," the
Buddhist
term
for the infinite cycle of birth, suffering, death, and rebirth. In the painting, a young girl strolls away from us, hands casually linked behind her back. She approaches an opening in a wooden fence, beyond which lies a riot of experience.
There's
the hope: Take a walk. Look around.
Photo credit:
Oregon Hill photograph, Cornerstone hanging w/ artist photograph, Hungry Hyaena, 2006; Photographs of original acrylic paintings by Michael McDevitt, 2005, 2006 by artist and Hungry Hyaena, 2006