Friend and artist
Michael McDevitt
is working to answer questions that haunt every artist. What happens to my work after it is sold? What does my painting look like in its new home? What is it hanging next to? McDevitt put out a call to all of his collectors:
"If you own some of my art, please help me by emailing me an image showing the piece as it exists today. I am interested in the space in which the art resides and how it interacts with your life. Also, please tell me if you'd prefer to remain anonymous. I greatly appreciate your help."
As it happens, I own five artworks by McDevitt, and I dutifully photographed each of them. To see them (and other of McDevitt's work in collectors' homes), check out three related posts on
Michael's blog
. No surprise; my collection is under the heading "
Queens, New York
."
Two related notes:
- One of McDevitt's paintings, an orange "Beastie," hangs next to an
Alice Neel
lithograph. I like some of Neel's work a great deal. In my early undergraduate days, the figure paintings of Neel and
Egon Schiele
excited me and I continue to admire both artists. Unfortunately, like most of us, I don't have enough money to afford her prints and, given her present condition (dead and famous), I can't very well email her to propose a trade...so how did I come to be in the possession of one?
At the risk of getting myself into some trouble here, I should come clean. I stole the lithograph. Or, rather, I saved it. Six years ago, in a former job as a gallery preparator, I was asked to destroy a number of lithographs that had developed slight
foxing
on
verso
. I was horrified by the request. I asked if I might have the prints instead of attacking them with a box cutter. The answer was a definitive, "Absolutely not." Try as I might, I didn't understand the gallery's reasoning. Sure, a serious collector probably won't want to buy a slightly damaged print, but why
destroy
them?
Upset, I nevertheless began hacking and slicing through the print pile, feeling badly for the artists and the unfortunate fate of their art. When I came to this particular Neel print, however, I just couldn't do it. I rolled the print up, slipped it into a cardboard tube and stashed it under a tool bench for later retrieval. A few days later I headed to work with a portfolio of my drawings, supposedly for a curatorial visit that evening; before leaving the gallery at closing time, I added a new piece to the portfolio.
If the gallery owners should stumble upon this blog and read the above admission, I'd only have them know, as I'm sure they must (since our relationship was always a good one despite my
constant pranks
and general mischief), that the theft wasn't meant as a personal slight or a sign of any dissatisfaction in my job. I just couldn't kill a print I so liked...and, yes, coveted. (If you must, please contact me and we can work something out. Although, really.....if you're only going to reclaim it to destroy it, please consider how happy and settled it appears next to McDevitt's "Beastie.")
- In another photograph on Michael's blog, a drawing of a
Barred owl
(
Strix varia
) by McDevitt hangs just outside the door to my studio. Through that door, you glimpse an in-progress painting that has since then been finished, just last week in fact. I thought I'd post it here...after all, it features three
spotted
hyenas
, as well as a pair of
African fish eagles
(
Haliaeetus vocifer
).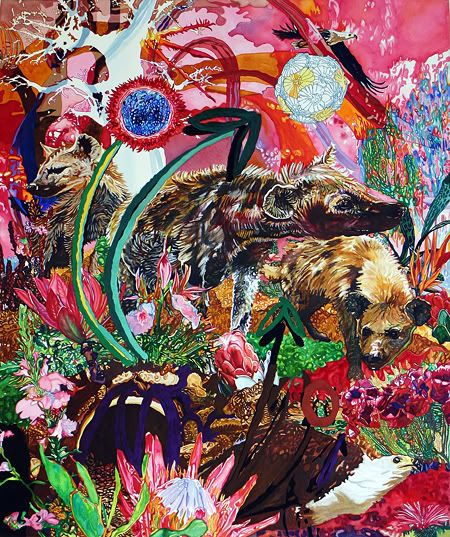 Christopher Reiger
"a cruel and beautiful faraway place"
2007
Watercolor, gouache, sumi ink and marker on Arches paper
32 x 27 inches
It is part of the Hysterical Transcendentalism series that I began
last year
, but it is, by far, the most visually assaultive - in terms of palette and composition - of those works to date. I quite like it, but I've now begun work on two paintings that are more subdued. I needed an interlude after the relentless all-overness of "a cruel and beautiful faraway place."