Part Two : Totemic Art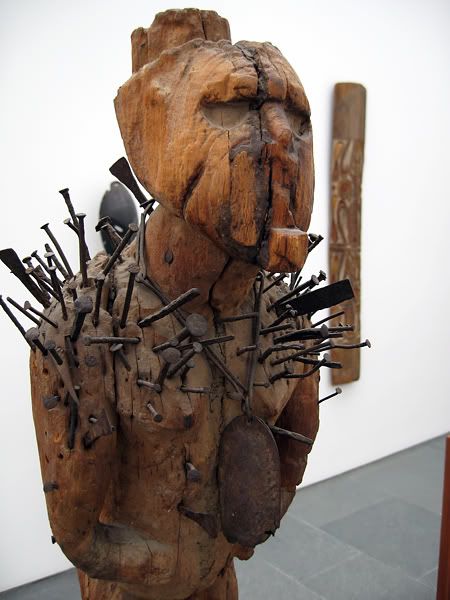 "Power Figure: Nkondi" (detail)
Wood and metal
approx. 24 3/4 x 8 x 8 inches
* * * * *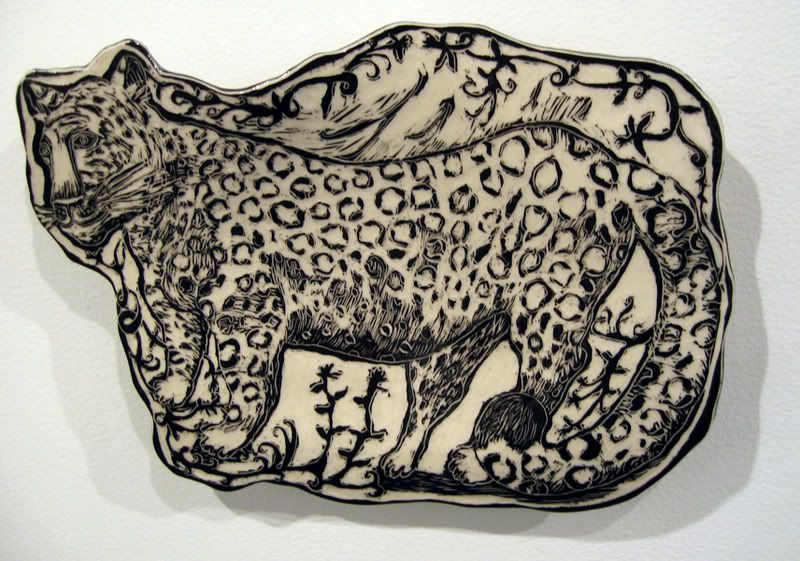 Kate Horne
"The Escape"
2006
Glazed porcelain & mason stain
9 x 12 x 1 inches
RARE
: Artist collectives are a curious affair. The creative communion offered by a collective is appealing to many artists, yet so many of us would just as soon close the studio door and be left to our own devices. But that isolationist inclination makes the concept of a collective more valuable, particularly when the group concerns itself with a set of values or ideas, whether abstract or rigidly delineated, rather than some stylistic mode.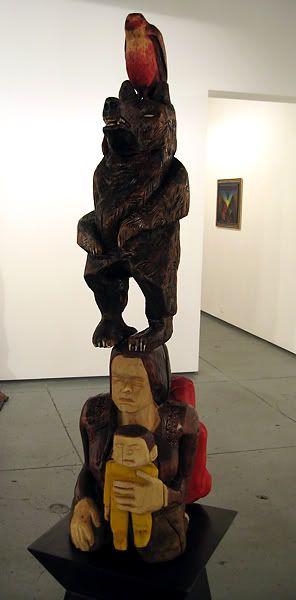 Amie Cunningham
"The Steadfast Warrior (Totem)"
2007
Maple wood, stain
78 x 17 1/2 x 20 inches
The Orchestra
does just that. Pat Berran,
Amie Cunningham
,
Candice Hoeflinger
, and
Kate Horne
"[explore] the creation of modern-ray relics with a sensitivity to history, craft, and humans' precarious relationship with nature." An increasing number of young artists, myself among them, are setting up shop in this territory, an unsurprising migration given the complicated, fractured interdependency of modern man and the rest of it. The exemplary pieces in the RARE exhibition, "The Steadfast Warrior (Totem)," by Cunningham, and a series of porcelain relief paintings by
Kate Horne
, return to a totemic representation of Nature to "search for modern spiritual significance."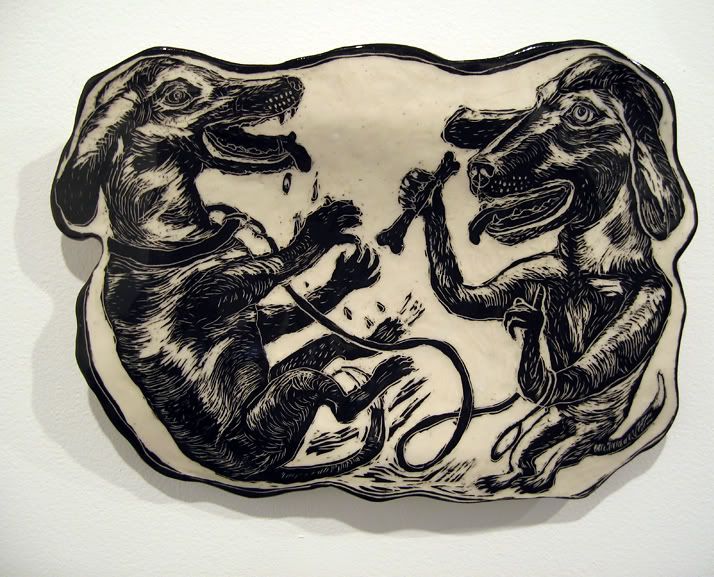 Kate Horne
"No Cookie"
2007
Glazed porcelain & mason stain
9 x 12 1/2 x 1 inches
Several months ago, I wrote about the paintings of
Tom Uttech
, a painter central to my pantheon. In
that essay
, I described totemic Nature as "a world of symbol and ecstatic interpretation" borne of sensual experience. That may seem a fanciful description to attach to Cunningham's totem or Horne's plates, but their work seems driven in part by a desire for natural reciprocity, a wanting to be alive as part of the greater weave. So many of us today yearn for this forgotten language, straining to apprehend the words despite our tongue's unfamiliarity. A rural childhood attunes the ear more than one spent in suburbia or the city; as we become an increasingly urban species, will we hear our history or taste our present without technological mediation?
* * * * *

"Bamana, Kore Hyena Mask, Mali, Africa"
Late 19th century
Wood, metal and leather
approx. 17 x 9 x 8 inches
Betty Cuningham
: I can not say for sure whether or not the members of The Orchestra spent a lot of time outdoors as youngsters, but the artists responsible for the masks, clubs, statues, daggers, shields, and blankets included in "
It's All Spiritual: Art from Tribal Cultures
" definitely did. The show's curator, Alan Steele, writes, "The title...reflects the belief that all great art - to some degree or another - has a spiritual component and that nowhere is this seen better than in the tribal arts from remote cultures."
The spiritual component of these works - which, by the way, would be
vetted even by
the likes of
John Dewey
, as they are beautiful
and
utilitarian - removes the need for dressy conceptual underpinning. (Discouragingly, the reverse is also true; an alarming majority of contemporary art is largely short on "spirit." As contemporary humanity's relationship to Nature has become more clouded and distressed, so too has our awareness of the immediate, animating forces been thoroughly abstracted. We are no longer, then, satisfied with what
is
, and we develop a greater dependency on the theatre of possibility and promises of progress, in turn denying the present and the social body, and so exhibiting more pretense, anxiety, and depression. But this is a whole 'nother can of worms.)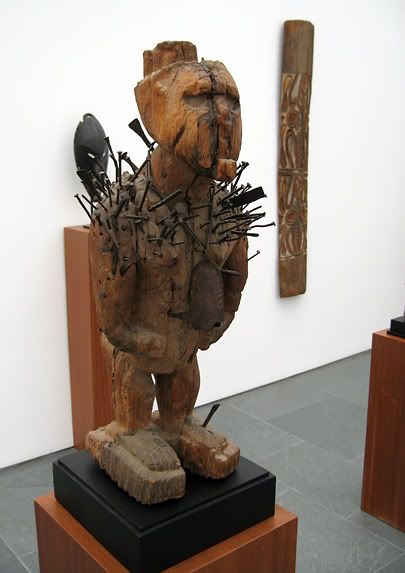 "Power Figure: Nkondi"
Wood and metal
approx. 24 3/4 x 8 x 8 inches
One could argue, however, that the tribal works are conceptual in that they draw on the myths and magical narratives central to each culture, but those narratives are themselves the product of a local hunter-gatherer lifestyle, and the iconography is rooted in direct involvement with the resources and ecosystems from which the materials are drawn. I've long felt that the "primitive" works from
the Africa, Oceania, and Americas collection
at the
Metropolitan Museum of Art
are among the most inspiring under that roof. But seen in the context of so impressive and vast a hoard, those objects are most easily read as artifacts, as historical channel markers; the education offered by the museum presentation, while valuable, can distract from direct experience of the work, making it less edifying. This is one reason why we hear so much griping about the museum as mausoleum
(1)
, and why the Betty Cuningham Gallery exhibition, smaller and more random in organization, allows viewers to experience the objects in much the same way they would contemporary works of art. Their vitality and relevance is immediately clear.
"It's All Spiritual" is a hopeful show. On the W train back to Queens I wondered if museums shouldn't start partnering with galleries on a more regular basis. Contemporary artists - indeed, all gallery goers - would be well served by it.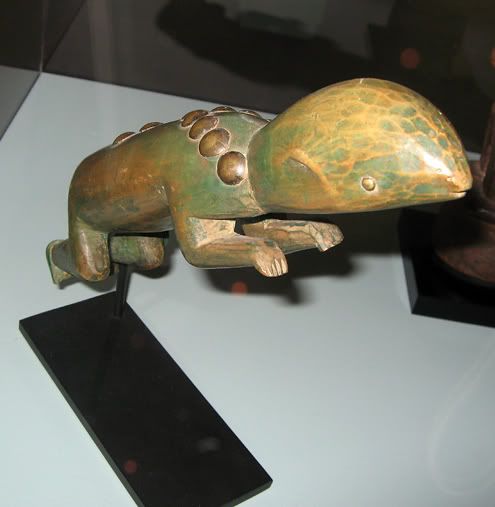 "Human/Prairie Dog Fetish, Southern Plains"
Last quarter of 19th century
Wood, green pigment, brass tacks
approx. 9 1/2 x 5 x 4 inches
* * * * *
Photo credit:
all images,
Hungry Hyaena
(1)
Mausoleum or not, the Met is a true marvel. If you stop and think for a moment about what is housed inside...you gotta pinch yourself. Frankly, I don't spend nearly enough
time there
.