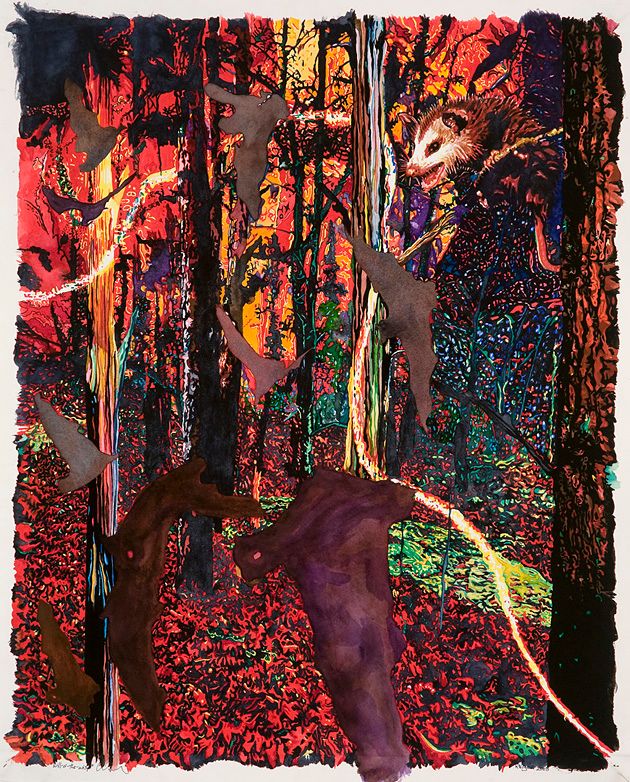 Christopher Reiger
"will-o'-the-wisp"
2008
Watercolor, gouache, sumi ink and marker on Arches paper
27 x 22 inches
I have two exhibition receptions in New York this coming week, an opening at
Denise Bibro Gallery
on Thursday, September 4th, and a closing at
Dieu Donne Papermill
on Friday, September 5th.
I'm particularly excited about "
Animus Botanica
," the 3-person show at Denise Bibro. I'm including twenty drawings and four recent paintings (one of which is pictured above), and sharing the bill with two friends and talented artists,
Amy Ross
and
Boyce Cummings
. (Check out Amy's blog
here
.)
The Dieu Donne Papermill exhibition, "
Opportunity as Community, Part Two
," is
also excellent
, of course, and not on view for much longer.
Come on out and say "Hi." I'll be at both receptions, and so will my parents, trekking north from Virginia for the two-fer!
Please find further details for both exhibitions below.
+++++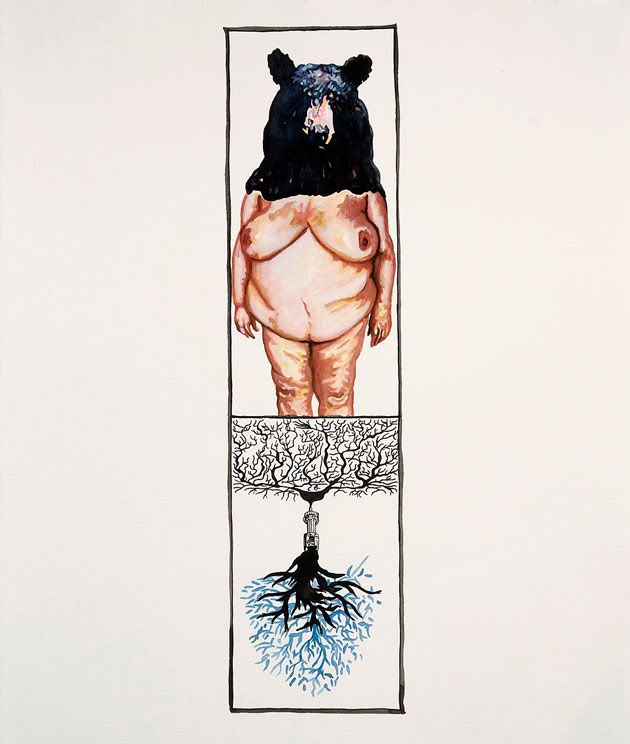 Christopher Reiger
"Forgotten Blood Roots #1"
2008
Pen and ink, sumi ink, gouache and watercolor on Arches paper
17 1/2 x 14 3/4 inches

Denise Bibro Fine Art
"
Animus Botanica: Boyce Cummings, Christopher Reiger & Amy Ross
"
September 4th - October 4th, 2008
529 West 20th Street 4W
New York, NY 10011
(212)647-7030
Gallery hours: Tuesday-Saturday, 11AM - 6PM
Artists' Reception:
Thursday, September 4th, 6-8PM
Exhibition press release:
In "Animus Botanica," three young artists explore themes of nature, narrative, and fantasy. On view September 4 through October 4, 2008, the work of Boyce Cummings, Christopher Reiger, and Amy Ross encompasses painting, drawing, and collage. The subject matter centers on flora, fauna, and the human form, as well as hybrid creatures, all of which are enthralling, and sometimes downright ominous. A fox emerges from the soft pink petals of a magnolia blossom, a Rubenesque female figure sports a bear's head, an opossum bears his teeth against an onslaught of bats, a lifeless bird hangs from string amongst a botanical rendering.
According to painter Boyce Cummings, nature occupies a large part of his inner life, and he casts people as animals in his works in oil, acrylic, and mixed media. Birds preside over seemingly abandoned architectural structures in barren landscapes, an abstract curvilinear design decorated with stars become the bird's lonely song. A regal polar bear silently crosses a white abyss, while an underpainting reveals numerous caricature portraits, recalling the disturbing drawings created to illustrate phrenology, or the study of the shape of the human head as it was thought to relate to intelligence.
Christopher Reiger's complex multi-media paintings on paper vibrate with saturated color and dense compositions of fauna, which the artist refers to as "hallucinatory landscapes." Often populated by menacing crows and other intimidating animals, Reiger suggests that nature is by no means idyllic, and compares its extremism to the contemporary cultural and political climate. His smaller works on paper allude to man's mutable conception of nature, while at the same time referencing archaic scientific experiments involving humans, animals, and plants.
Amy Ross' watercolors and collages portray delicate, elegantly rendered botanicals morphed with animal and human forms. Ross notes these images subvert the traditional genre of botanical illustration by viewing the natural world through the lens of genetic engineering and mutation gone awry. Woodpeckers with mushroom caps for heads adorn fragile white birch branches; another mushroom sprouts into a headless, writhing serpent. While these creatures are charming, Ross alludes to the dangers of meddling with nature.
Cummings, Reiger, and Ross all have extensive exhibition histories. To view their resumes, please visit our website. For more information, or high resolution images, please contact the gallery.
+++++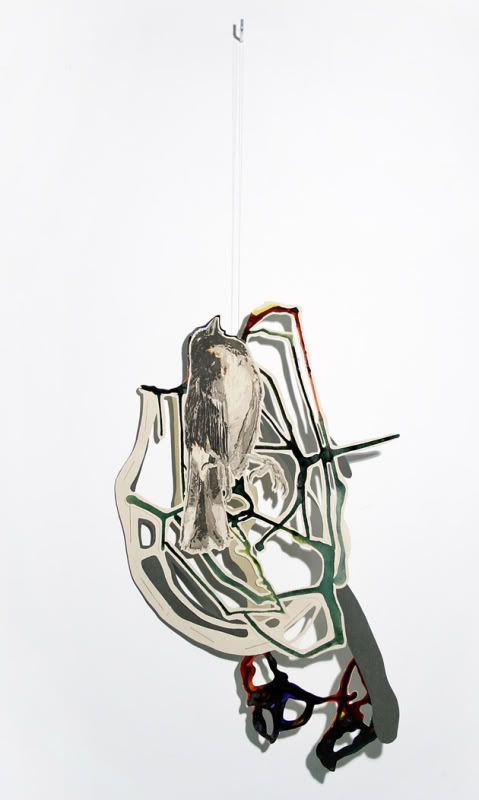 Christopher Reiger
"More of the Less That Is Left #2"
2008
Handmade paper, shellac ink, sumi ink, thread, archival glue and hanger
38 x 15 inches
Dieu Donne Papermill
"
Opportunity as Community: Artists Select Artists, Part Two
"
August 1st - September 6th
315 West 36th Street
New York, NY 10018
(212)226-0573
Gallery hours: Monday - Friday, 10 - 6 PM
Closing reception:
Friday, September 5th, 6 - 8 PM
Participating artists:
Louis Cameron (selected by Mary Temple)
Sarah Crowner (selected by Peter Simensky)
Bruce Dow (selected by Allyson Strafella)
Marc Handelman (selected by Vargas-Suarez Universal)
Karl Jensen (selected by Brad Brown)
Joan Linder (selected by Sonya Blesofsky)
Liza McConnell (selected by Kirsten Hassenfeld)
Mike Quinn (selected by Rachel Foullon)
Christopher Reiger (selected by A.J. Bocchino)
+++++
Also, "
Year of the Rat
" continues to run at
Archibald Arts
. Steal a peak at my inclusion
here
. Stop by if you get a chance!