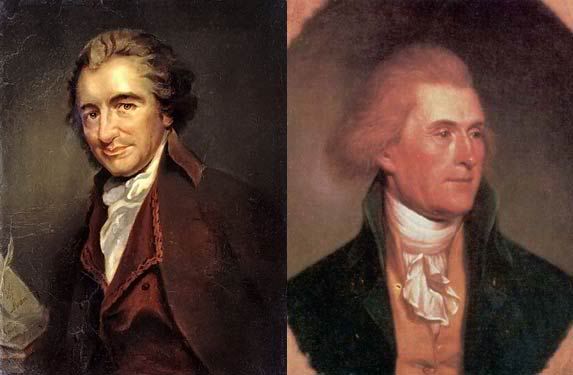 Thomas Paine and Thomas Jefferson
A few months after the inauguration of
President Barack Obama
, many one-time "
Yes we can
" cheerleaders are grumbling and casting skeptical glances at
Washington
. Indeed, I've been disappointed by some of our new president's decisions, but I also accept his maneuvering as an unfortunate political reality.
Unlike
his predecessor
, Barack Obama realizes that the
President of the United States
should not operate as an ideologue. Of course, he (and some election year soon, she)
could
choose to embrace ideology over pragmatism but, in doing so, the
Commander-in-Chief
risks aligning himself with the sort of tyrannical autocracy that our leaders rhetorically (and routinely) condemn.
But political reality doesn't temper the poor reviews that Obama receives from many on the political left. Considering their critique of Obama's centrism, I recalled an earlier
HH
post. In "
The Whiteness of the Whale
," I wrote:
"Craig Nelson's recent biography of Thomas Paine serves as my subway reading these days, [and] I find the following observation relevant.

'Beginning with Franklin and Washington, every successful American leader would balance the pragmatic with the Utopian. Where Franklin the master politician would be almost entirely pragmatic, Paine would be too fervidly Utopian in ways that would not just damage him financially, but imperil him physically... Paine would...always be too ardent with his religion of the lights, a Savonarola of reason and liberty, and as inept a political operator as any fervid Christian saint...The success or failure of any leader in U.S. history can be judged through his or her successes or failures at reaching the pragmatic Utopian paradox that remains at the heart of the American experiment.'

Nelson's words ring true. 'The pragmatic Utopian paradox' is not uniquely American, but it is central to our American experience. For confirmation, we need look no further than the glut of contemporary, progressive American politicians striving to develop a decidedly centrist track record, even if they contradict themselves (and their conscience) in doing so. By contrast, it's easy to discard compromise and contradiction if you are a committed revolutionary or a monkish loner operating in an intellectual and philosophical vacuum."
Barack Obama qualifies as one of the "contemporary, progressive American politicians" I criticize in that excerpt. Yet, as I suggest in the same post, "outside the D.C. beltway, ideologues are a dime a dozen, but exceptionally gifted rhetoricians like Paine or
King, Jr.
emerge (and make [a legitimate political] impact) only rarely."
Yet even if the political impact of fringe ideology is negligible, those voices must be heard. Indeed, unpopular opinions are sometimes the most vital in a just democracy. There's a reason, after all, that liberals wring their hands when contemplating the censorship of bigoted hate speech. If you believe in the democratic fray, you're obligated to let
all
of society's individuals speak.
In a recent episode of the "
The Thomas Jefferson Hour
," historian and Jefferson impersonator
Clay Jenkinson
read and responded to the following Paine quotation.
'He that would make his own liberty secure, must guard even his enemy from oppression; for if he violates this duty, he establishes a precedent that will reach to himself.'

"This is how Paine would react to the Bush Administration for the past seven-and-a-half years. This is an answer to the Patriot Act, to the surveillances, to Guantanamo, to Abu Ghraib!"
Jenkinson's right. In fact, a great many of Paine's sentiments are as pertinent today as they were in the late 18th century, his abolitionist and proto-feminist writing especially so.
He may have made many political enemies in his day but, two hundred years after the turmoil of our nation's early ideological disputes, Thomas Paine's unwavering moralism aligns more closely with contemporary progressive attitudes than does
Thomas Jefferson
's political pragmatism. Compared to the public attitudes of the slave-owning and patriarchal Jefferson, Paine strikes the 21st century citizen as the more modern thinker and the more conscientious man.
Does it matter that Jefferson, in his private correspondence, agreed with Paine's abolitionist argument? From our vantage point (one of comfortable remove), no, it doesn't. What we consider, above all, is that Jefferson was a slave owner and that Paine was an outspoken abolitionist. 'Deeds, not creeds,' as the saying goes. But it's noteworthy that Paine was poor and
unlanded
, and therefore never in a position to own slaves. (Indeed, Paine was never in a position to give up slavery, power, or riches; essentially, his social standing cloistered him from temptation.) Nor was Paine a political figure; he could be strident because he didn't have to consider popular opinion or the practical effect of enacting reform.
Writing in his philosophical memoir
An American Gospel: On Family, History, and the Kingdom of God
,
Erik Reece
succinctly describes the democratic ideal to which I subscribe.
"Like [Walt] Whitman, John Dewey thought of the ideal American democracy as an 'organism,' a whole that is reflected in each of its parts - that is to say, in each individual citizen. ...As cells work together within an organism, Dewey believed individuals worked together within a good society to achieve 'a unity of will.' ...And because democracy is a social idea, it is also ethical by its very nature. Ethics, after all, begins with the realization that one is a social being and therefore part of a larger whole. A man living alone on an island requires no ethic. An aristocracy or a dictatorship could be run by only a few of its members. But the democratic organism needs all of its cells. And those cells must act simultaneously in their own interest and in the interest of the larger organism."
But Dewey was a
pragmatist
. Surely he realized that the democratic organism's ability to fight off infection of the malignant variety is not nuanced; the democratic immune system, if you will, acts to extinguish
all
radical cells. In other words, this organism is just as likely to rise up against outspoken abolitionists as it is against outspoken racists. And, indeed, history stands as a testament to this action.
Thomas Paine found an American and French populace eager to absorb his revolutionary and populist manifestos
Common Sense
and
Rights of Man
, but he was eventually ruined by his rational dismissal of Christian doctrine,
The Age of Reason
. His
New York Citizen
obituary read, "He had lived long, did some good and much harm." Much harm? Paine's progressive opinions about slavery and feminism didn't win him sustained popularity.
Jefferson, too, was a lightening rod in his day, provoking as much disdain as he did praise (especially from
the Federalists
and, in particular,
Alexander Hamilton
). But Jefferson was a savvy political operator, a master of Nelson's pragmatic Utopian paradox. Although he shared many of Paine's opinions, Jefferson did not draft legislation addressing those issues or even, because of his
deism
, allow his private correspondence to be made publicly available in his lifetime. Our third president carefully considered what the
demos
were and weren't ready to accept. Paine, the ideologue, simply didn't care.
So what will it be? Should an independent, liberal leaning citizen like myself wish for a revolutionary president, a Paine-like Obama less concerned with centrist politics, an Obama driven by moral conviction? Can I believe that such a president's radical agenda won't be consumed by the fires of reaction?
For my part, I trust that Obama is striving to foment as much progress as he safely can in our flawed, anti-intellectual democracy. I express my few disappointments by signing
petitions for ads calling on Obama to address
some of what I see as missteps but, above all, I'm proud of our country for electing an intelligent, disciplined and thoughtful man to the nation's highest office...and
I remain optimistic
.
Image credits:
Thomas Paine portrait ripped from
American History Guide
and Thomas Jefferson portrait ripped from
The World Union of Deists