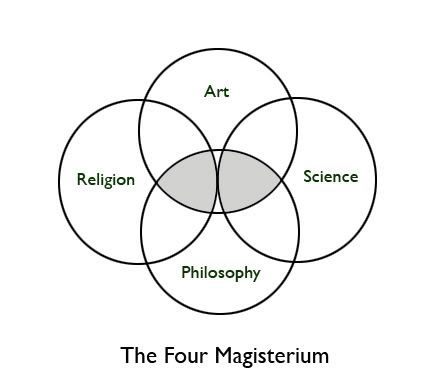 On the heels of
my exchange with
Peter Gabel
about the relationship of science and religion,
Tikkun Daily
intern Sarah Ackley has written
an excellent summation
of the late evolutionary biologist
Stephen Jay Gould
's
non-overlapping magisteria (NOMA)
model, one bolstered by insights from
Catholic
theologian
Hans Kung
.
Ackley points out that Gould insisted that "the two magisteria bump right up against each other, interdigitating in wondrously complex ways along their joint border." This observation is of particular interest to me because, until now, I'd mistakingly believed that Gould felt there was no exchange between the two, non-overlapping realms.
As I wrote in "
Matthew Day Jackson's Wonderful Artifacts
," in October 2008,
"Whereas Gould posits that the magisteria of religion and science are nonoverlapping, I would argue that, where their circles meet, the membrane is permeable. This bleeding of one into the other represents the pinnacle of art and philosophy."
It's clear to me now that Gould and I were on the same page all along (or, more accurately, I was on Gould's page)!
Read Ackley's
TD
piece
here
. Above, I've included a NOMA diagram that I created for
the essay
on
Matthew Day Jackson
.