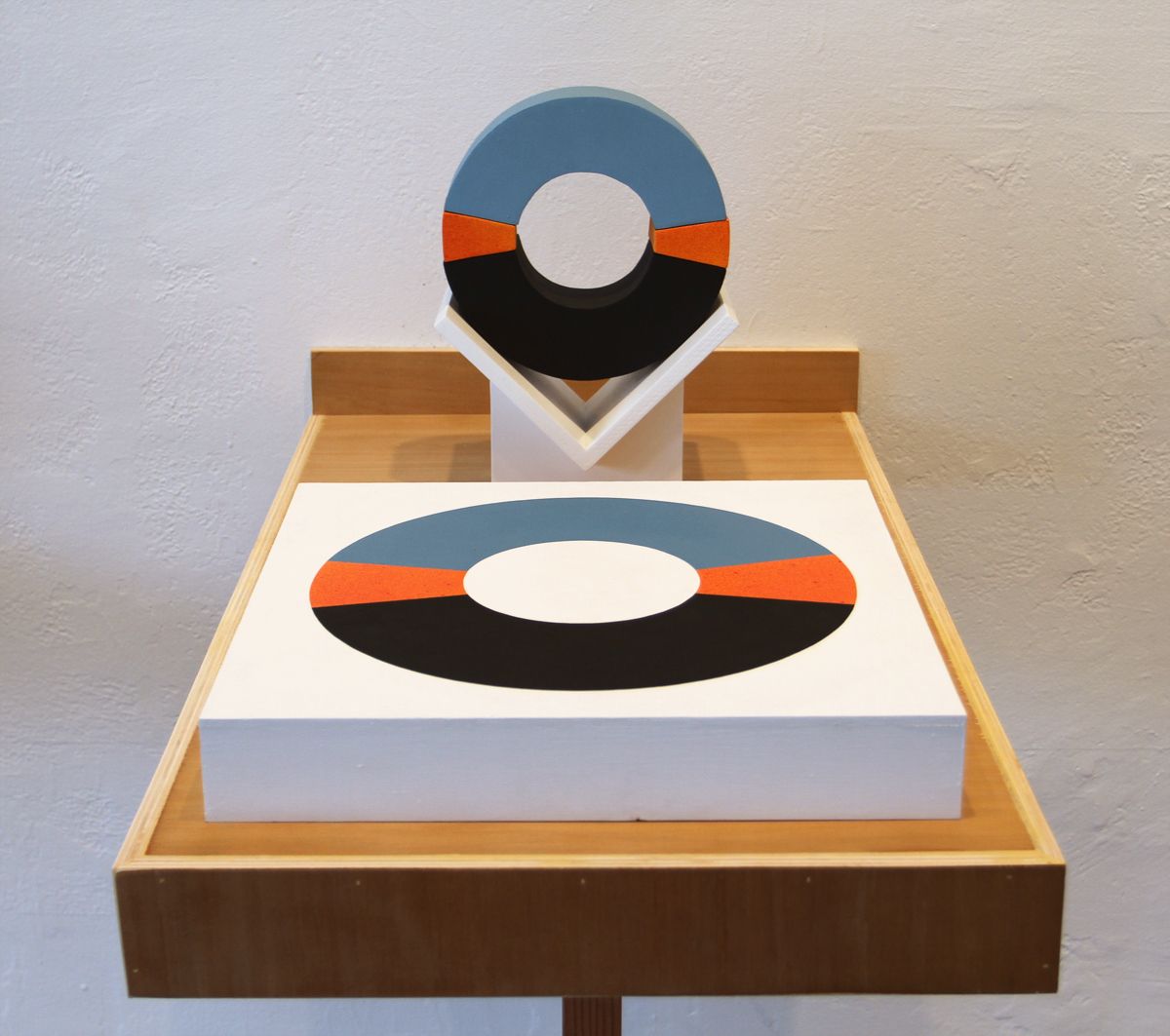 Gregory Ito
"Untitled (Time Diagram Set B)"
2011
Acrylic and gouache on wood panel, acrylic on handmade wood object, and table
Like it or not, context informs our experience and interpretation of artworks. We generally think of context as a work's physical situation (e.g., how and where it is installed) or its social and art historical framework, but most important is the context provided by an individual viewer. What is the viewer's profession? What book is she reading? Who was she talking to an hour ago, and what about? Of course, artists can't control for these subjective factors, and many craft artist statements that provide viewers with what the artists believe is appropriate context for the artwork. Too often, though, these statements tell viewers what the "take away" should be, thereby forfeiting the most vital and collaborative element of the artistic enterprise,
the creation of meaning by the viewer
.
How refreshing, then, to find
Gregory Ito
's healthy twist on the artist statement in his terrific
"Point of Vision" exhibition
at
Gallery Hijinks
. While the artist and gallery provide a press release (usually an artist statement reworked and edited by the gallery staff), Ito also includes "Sources," a tidy stack of books on the floor, spines out so that the titles are easily read. Is "Sources" intended as a found object sculpture? Kinda sorta (after all, it's titled, is situated among Ito's other work, and is included on the exhibition price list, albeit "NFS"), but its principal valuable is as an alternative to the formal statement. It provides viewers with context without bullying them into a particular conclusion.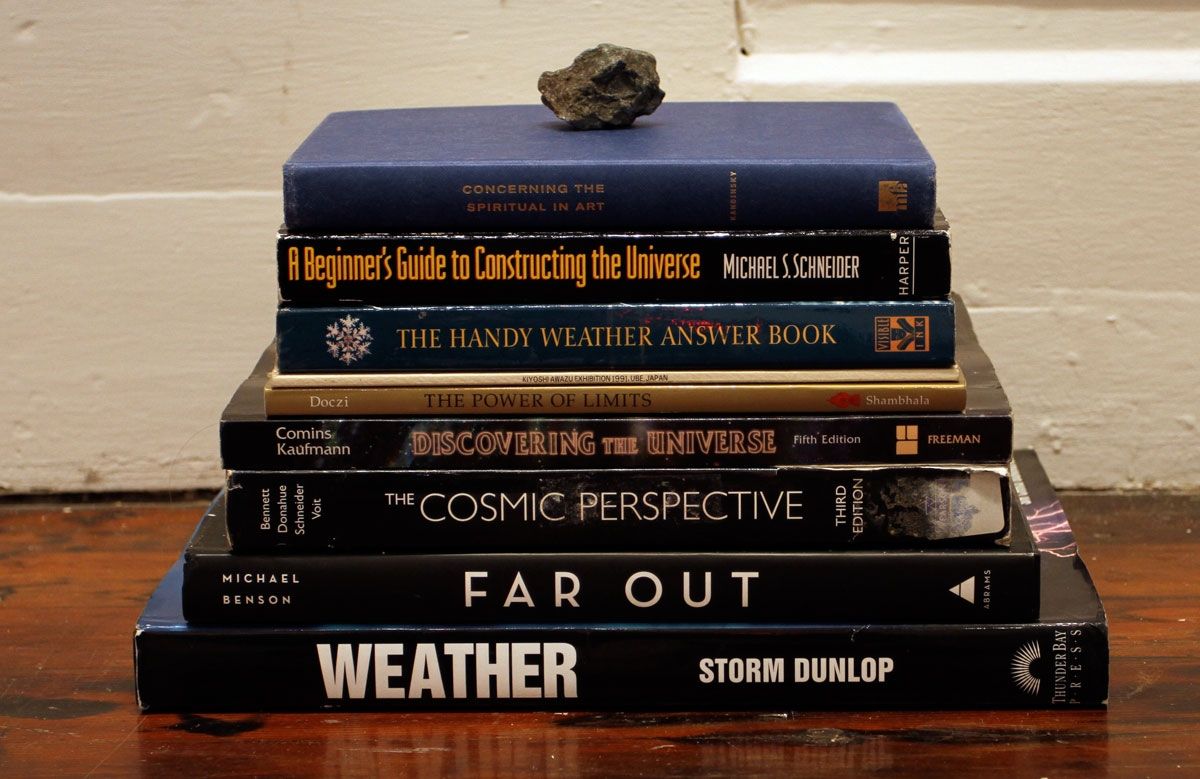 Gregory Ito
"Sources"
2011
Book collection
"Sources" is something of a companion piece to "Self Portrait (Object Collage)." Installed in one of the gallery windows, "Self Portrait" includes a beach chair, flip flops, a towel, a pile of diary-like journals, an ashtray, empty beer bottles, a candle, and 28 snapshots mounted on a board that faces the chair. One imagines the artist in his chair, sipping beer and smoking as he contemplates his collection of isolated observations. The photographs are mostly of clouds and sun-soaked skies, but there are also landscapes, some abstract imagery, a rainbow, and an illuminated light fixture. These pictures complement Ito's reading list.
A Beginner's Guide to Constructing the Universe
, by
Michael Schneider
,
Concerning the Spiritual In Art
, by
Wassily Kandinsky
,
The Cosmic Perspective, Third Edition
, by Bennett, Donahue, Schneider, and Voit,
The Handy Weather Answer Book
, and other titles included in Ito's book pile suggest that the artist is preoccupied with sublime, existential mysteries and celebrating our species' impulse to solve them.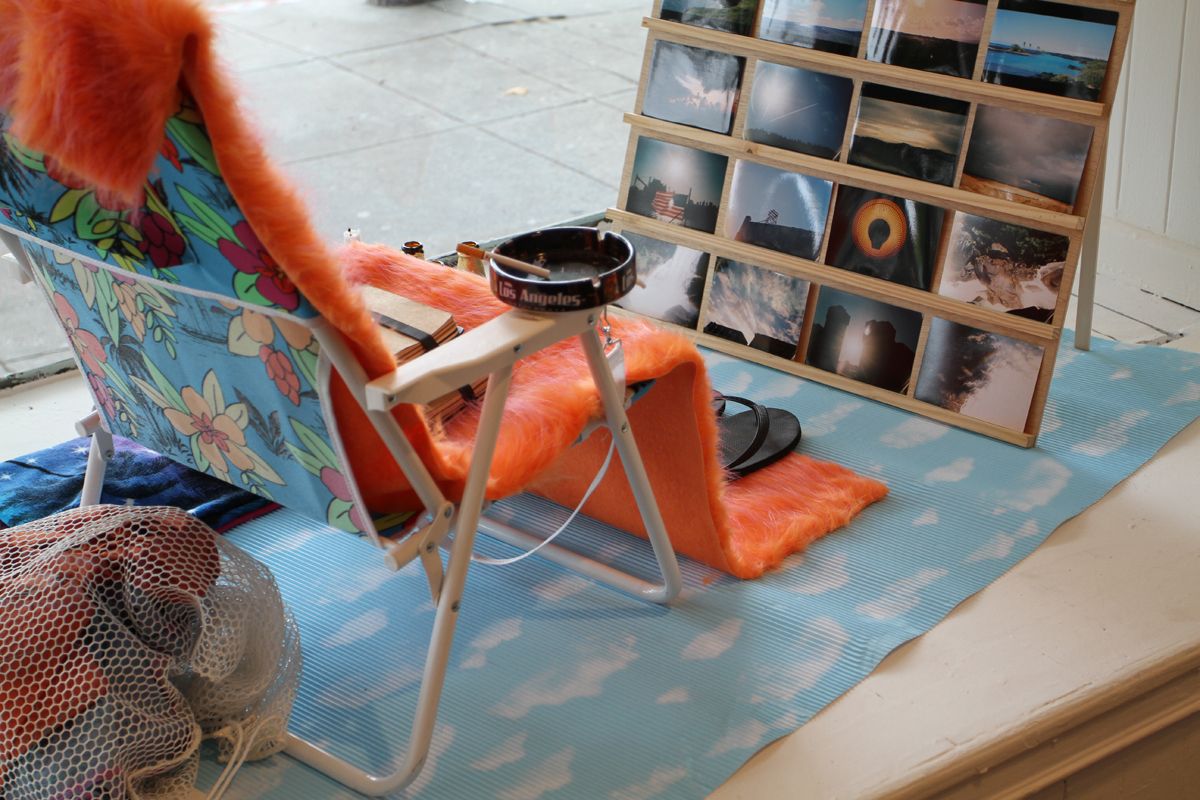 Gregory Ito
"Self Portrait (Object Collage)"
2011
Window installation with 28 photographs and wood display
Ito's sculptures, paintings, and installations reflect this focus. Especially in the gallery's "white cube" setting, they read as speculative objects and diagrams as much as they do aesthetic entities. The artist is well aware of this; he titles the two most compelling installations on view, "Untitled (Time Diagram Set A)" and "Untitled (Time Diagram Set B)." He pairs a painting with a sculpture in each. The paintings are straightforward illustrations of the sculptures, but, displayed in the gallery setting with the three-dimensional objects they depict, the images read as icons, potent stand-ins for the "real" or "true" object. Curiously, by virtue of having been depicted, the sculptures also gain in significance. The meaning of these pictures and objects remains somewhat esoteric. I infer, based on the works' titles and Ito's "Sources," that these are representations of
space-time's nature
or
shape
, but that's a rather general interpretation. Still, the sculptures resonate as totems and the paintings as their icons. This reciprocal dynamic is compelling, and serves as an oblique reminder that all artwork exists in relationship to the world and ideas outside of the gallery and studio, a fact too often overlooked since the advent of
modernism
.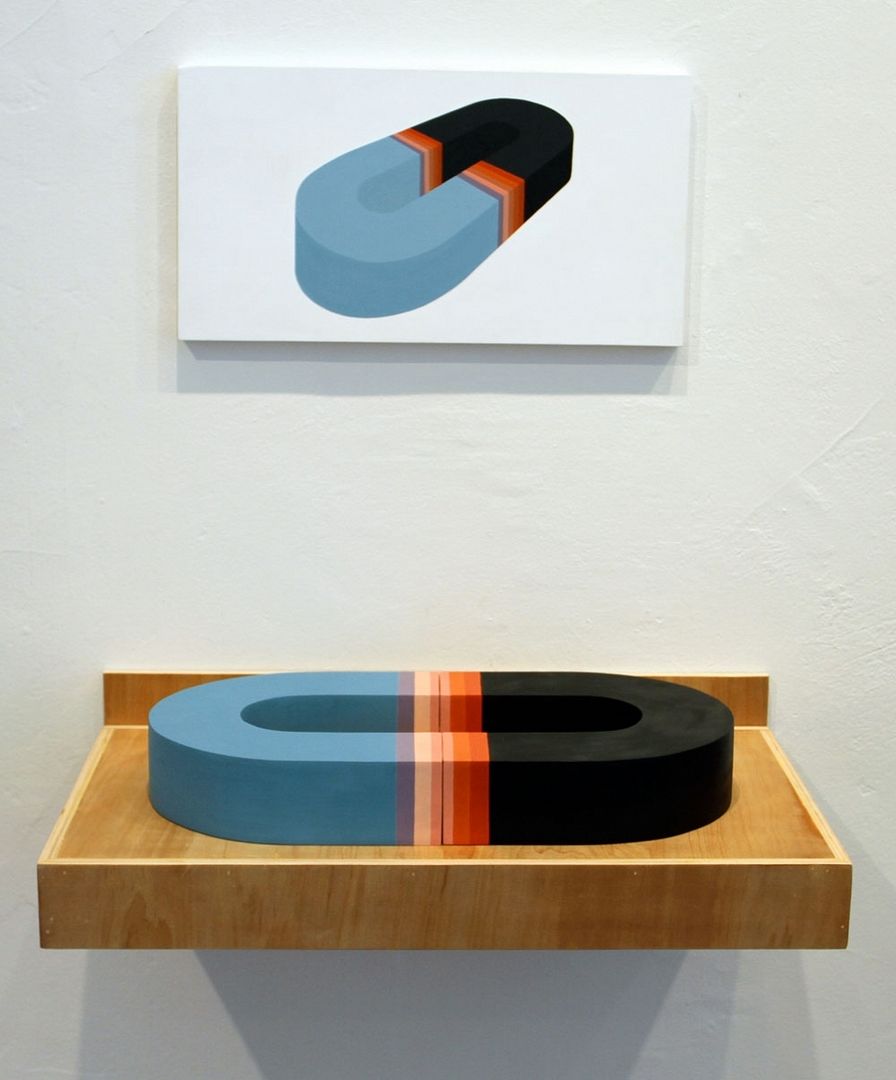 Gregory Ito
"Untitled (Time Diagram Set A)"
2011
Acrylic on wood panel, acrylic on handmade wood object, and shelf
In other works, Ito more directly highlights what
I've elsewhere described as "the wonder current."
In "Human Euphoria," a disembodied ceramic head of a girl in a big-brimmed, yellow hat rests on top of a block of adobe clay, apparently gazing at an ocean sunset. The piece is a winking, contemporary tribute to
Caspar David Friedrich
's
Romantic
masterpiece, "
Wanderer above the Sea of Fog
," but Ito's head is better-suited to contemplation than the vigorous morning constitutionals of Friedrich's dapper hero. Is this a comment on the continued dominance of conceptual concerns over aesthetic and material considerations in contemporary art? Perhaps; perhaps not. Ito's better pieces excel precisely because they can be interpreted as
"art for art's sake"
or, taking a hint from his "Sources," as art about the stupefying magnificence of being.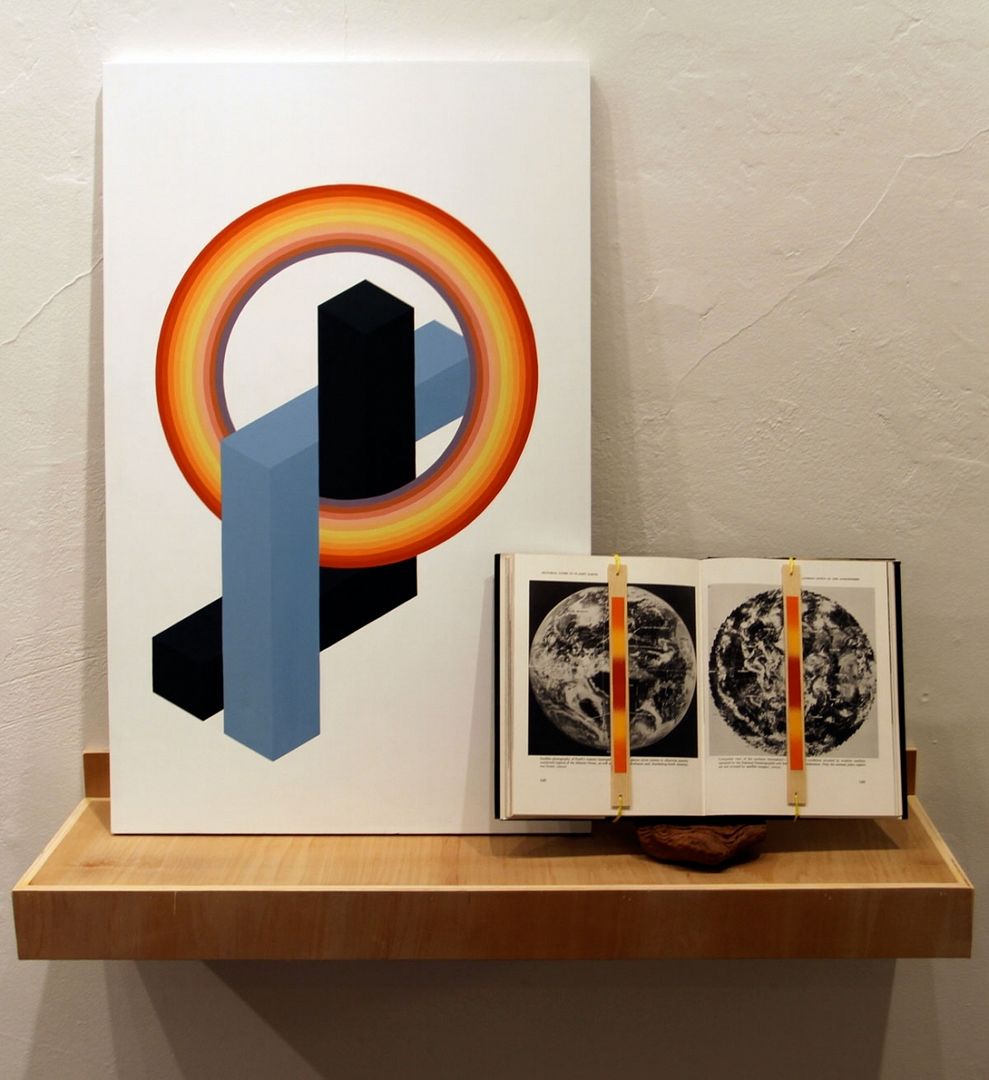 Gregory Ito
"The Embrace Installation"
2011
Acrylic and gouache on wood panel, found book with handmade page holders, and petrified object on shelf
Image credits:
all images, courtesy Gallery Hijinks and Gregory Ito, 2011