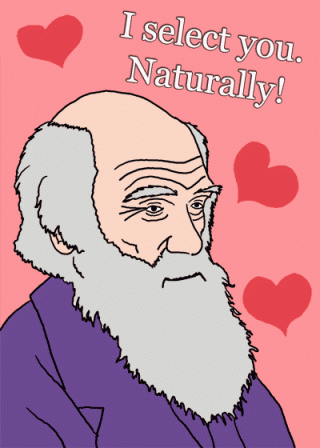 This past weekend, countless couples the world over celebrated
Valentine's Day
. Far fewer, however, marked
Evolution Weekend 2010
on our calendars. I did not participate in any Evolution Weekend events this year; I hope to rectify that oversight next year, as the goals of the project are worthy and important.
From the project's website:
"Evolution Weekend is an opportunity for serious discussion and reflection on the relationship between religion and science. One important goal is to elevate the quality of the discussion on this critical topic - to move beyond sound bites. A second critical goal is to demonstrate that religious people from many faiths and locations understand that evolution is sound science and poses no problems for their faith. Finally, [...] Evolution Weekend makes it clear that those claiming that people must choose between religion and science are creating a false dichotomy. Through sermons, discussion groups, meaningful conversations and seminars, the leaders [of this effort] will show that religion and science are not adversaries."
To date, roughly 13,000 American
Christian
,
Jewish
, and
Unitarian Universalist
clergy have signed letters stating that evolution and religion are compatible. To some of us, this compatibility is a no-brainer, but for many
intractable anti-religionists
and
literal-minded religious Americans
, there can be no comfortable cohabitation. Both extremes are guilty of arrogance, thoughtlessness, or both.
Yet those of us in the middle might do well to take a lesson from the activist extremes. As
Rabbi Robert Barr
, of
Congregation Beth Adam
in Loveland, Ohio, said recently,
"It is amazing and disturbing that biblical literalists have been able to successfully challenge the concept of evolution and in doing so change how science is taught in school and [require] congregations and clergy to stand up and endorse an idea that is 150 years old. [...] Perhaps what has made the anti-evolution crowd most successful is their passion. While I disagree with them, I appreciate their energy and their commitment, and I want those of us who embrace science, modernity, and religion to be equally committed to our beliefs."
It's not enough to know that there needn't be conflict between the material and metaphysical. We must also speak truth to bigotry and ignorance.
Image credit:
ripped from
C95 FM website